Long wait for safe crossing ends as new ferries arrive
By Richard Alleyne
It was something of a triumphant entry as two new ferries were shipped into Mombasa Wednesday to relieve the ageing Kenya Ferry Service (KFS) fleet.
Hundreds of Mombasa residents, accustomed to living with the perils of old ferries that have frequently been drifting midstream, cheered and clapped as Mv Beluga, a German ship carrying the two bright-red vessels, sailed in early morning past the Likoni channel to the port.
Like the ageing fleet which has locals names, the two ships were emblazoned with the names, Mv Kwale and Mv Likoni with a white line streaking across the centre.
Mv Likoni, loaded on the deck, glittered in the sunrise while Mv Kwale was concealed below.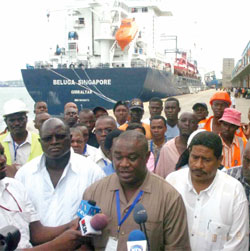 Managing Director of Kenya Ferry Services Musa Hassan Musa addresses journalists soon after the arrival of the ferries at the port. [PHOTOS: MOHAMMED MARUFU/STANDARD]
The old fleet, which operate 24 hours for seven days are Mv Nyayo, Mv Harambee, Mv Kilindini, Mv Pwani and Mv Mvita.
The arrival of the ferries was the culmination of a long wait and tendering controversy that nearly stalled their construction in a dockyard in Dresden, Germany.
According to Musa, the arrival will mark the end of a long and cumbersome procurement process. He was referring to the ferry tendering that once became a court battle after two bidders were involved in a dispute.
After the court battle, the length for the ferries was changed from the original 48m to 75m and the cost shot up from Sh1 billion to Sh1.3 billion for the two vessels.
Controversial
The procurement was so controversial that it saw former KFS Managing Director John Ria, Chairman Ali Mandry and senior managers sacked.
Pressure was so high last year for the completion of the project, that former Transport Minister Chirau Ali Mwakwere had to go to Germany to push for speedy building of the vessels.
Mwakwere used his visit to Dresden to name the ferries and assured commuters the Government was committed to procuring new vessels to ease congestion at the Likoni crossing.
Oliver Lang, the German engineer who led the team in building two new ferries, said it was a daunting task for the small shipyard in Dresden.
It took two years instead of one to assemble the modern vessels amid bad weather, mandatory requirements and pressure to deliver from Kenya.
He said the two ferries have a lifespan of 110 years with good handling and maintenance.
Lang said: "It's a big contract and it's great honour for us, a small shipyard, to build the ferries and have them here now."
Lang said building began in June 2008 and it took them two years to complete and deliver the ferries.
It all began with international requirements where the design had to get the approval of the Llyod's Register before construction could commence.
After the approval was through, bad weather set in across Europe and slowed down the building process.