How 200 officers rescued boy from abductors
By Cyrus Ombati
Even when police knocked the door for Eugene Ochieng' to open, the 15-year-old boy declined to do so and instead hid in vegetable sacks.
Probably because his abductors had earlier on ordered him to sleep until Friday morning when they would come for him, and, again, he was hungry and tired. The police had to break the door to rescue him.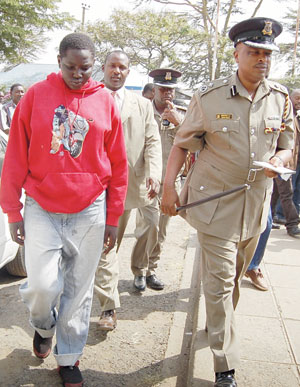 Eugene Ochieng' with Police Spokesman Eric Kiraithe after security officers rescued him, Friday. [PHOTOS: Mbugua Kibera/STANDARD]
Eugene was rescued by the police from a house in Nairobi's Dandora estate, three days after gunmen took him captive and demanded Sh1 million ransom from his father.
He was found locked in a room full of sacks of vegetables where, he said, he had been relocated minutes before police arrived.
"That was the third house they had taken me to and it seems they knew police were looking for me. They really tortured me for the period I was in their hands," he said after his rescue.
Remaining kidnappers
The joyous boy urged police to rescue other individuals in the hands of kidnappers because "it is torturous".
"I pray that all those out there in the hands of kidnappers are rescued. Police need to catch up with the remaining kidnappers because they are many," he said outside Buru Buru Police Station. At the station he got counselling from experts.
When police found the boy in the house, could not trust them even after they identified themselves. He could not trust anyone, anymore.
He said some of his abductors were armed with AK47 rifles and police walkie-talkies.
It was after he heard the commander of the squad brief his bosses on phone that he looked relieved and hugged the commander.
His daily meal
"He hugged our commander and thanked him for rescuing him saying his abductors had threatened to kill him and his family," said one of the officers.
Eugene told the officers he had been surviving on a loaf of bread and soda.
To make sure his identity would not be known, the thugs gave Eugene their clothes and took away the uniforms he wore when he was abducted.
And even though the criminals got his father's phone number from him, they did not make more demands from him (father).
More than 200 police officers were involved in the operation. Some officers had sealed off the area after being informed the abductors, who may have had information that detectives were looking for them, had shifted the boy to the house.
In the three-storey residential building, police said they only found women and children, as all men tenants had taken cover on getting wind of the operation.
It was a 10-year-old girl who told the police of a 'stranger' locked in one of the rooms.
Eugene was later rushed to Nairobi West Hospital where doctors gave him a clean bill of health and later joined his family.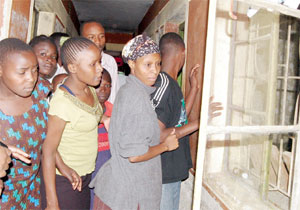 Tenants and neighbours peep in the house Eugene Ochieng' had been held in Dandora, Nairobi.
Criminal incidents
Police spokesman, Eric Kiraithe linked the abduction to eight suspects who were arrested in the area and Githurai 44 area.
"Four of them have been linked to a series of robberies and murder incidents in the city and Athi River. We are building up a case against them," he said.
He said two of the suspects are women who occupied the room where the boy was hidden.
Also found in the Githurai house were 40 mobile phone SIM cards, including two belonging to Eugene's father.
Kiraithe said preliminary investigations reveal that one of the suspects — known as OCS — is a commander of Mungiki in Dandora and a matatu driver in Nairobi.
He said police have gone hi-tech in their operations.
"We understand they (criminals) have stopped using mobile phones but that will not mean we will not get them. We will get them dead or alive and the operation is on," he added.
Kiraithe said the rescue of the boy is an indication that police can track criminals however sophisticated their syndicate may be.
He urged car hire dealers to take details of all their customers as a safety measure after it was realised the criminals are now using taxis in their operations.
Eugene, a student at St Teresa's Secondary, was abducted from Saika estate on Tuesday, as he headed for school at 6am.
His father was robbed of Sh13,000 during the incident.
The thugs, who were armed with rifles, shot and injured Eugene's neighbour who was driving from his compound.
They escaped with the boy in their car and abandoned it in Dandora.
The incident came days after police rescued a banker from kidnappers who were demanding Sh4 million ransom from his family last weekend.
In May alone up to seven such incidents occurred, mainly in Eastlands.
A couple was shot and seriously wounded after they resisted abduction.
A Form Two student in Kayole was rescued from an abduction den after he sneaked out a note to neighbours.
Three suspects were arrested in the incident and have been charged in court.
Yesterday police said many incidents go unreported since affected families give in to the demands of the abductors without involving security officers.
Tecno launches Camon 19 and Spark 9
Tecno Kenya announces launch of Camon 19 series & spark 9 seriesThe CAMON 19 Series will offer incredible night-time photography features & the SPARK 9 Series will redefine selfie and iconic design for Gen Z.