Muthaura flown out to SA due to heart ailment
By Standard Team
A smiling Head of Civil Service Francis Muthaura, flashing thumbs up as he was wheeled to a chartered plane, was a reassuring image that he was on the road to recovery as he was airlifted to South Africa.
Government Spokesman Alfred Mutua later said Muthaura who had suffered a heart problem arrived at Sunninghill Hospital in Johannesburg in stable condition and is expected to undergo surgery.
Friends, relatives and top Government officials who visited Muthaura in hospital before his flight shortly after 9am, said he was in a jovial mood while chatting them up.
"He even invited me for breakfast," said one associate who asked not to be named. "As usual he was asking a lot of questions," he said.
Daughters, Susan, a lawyer, and Patricia, a medical doctor, wife Dr Frank Mwongera and Dr Charles Kariuki, accompanied Muthaura
Muthaura's only son Paul, also a lawyer, is away in Europe.
Sources said apart from Sunninghill enjoying superior facilities, the move to South Africa may have been prompted by the fact that Mathaura could not rest much at the Nairobi Hospital where visitors streamed in virtually all day.
Muthaura was driven from hospital in an ambulance to Wilson Airport where he and his personal doctors took an Amref Citation chartered plane at about 9.15 am.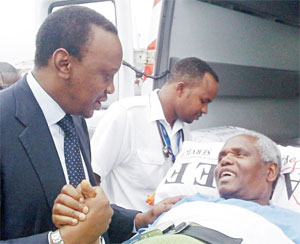 Finance Minister Uhuru Kenyatta talks to Head of Public Service Francis Muthaura before he was flown to South Africa for specialised treatment, on Wednesday. [PHOTOS: COURTESY]

Mutua, who was among those who went to see him off, said tests done on Muthaura indicated he had narrow arteries to his heart but the heart itself "is pumping normally".

"The decision was taken that it is always better to treat these ailments early and that he needs to undergo further tests and a possible procedure," said Mutua.

Back to work

It is expected that Muthaura will stay at the hospital for a week or two after which, according to Mutua, he would be back to work.

Before the plane departed, Mutua and Finance Minister Uhuru Kenyatta posed for photographs with Muthaura as he lay on his stretcher.

Also present at the airport was Internal Security Minister George Saitoti, former minister Raphael Tuju and NSIS boss Michael Gichangi.

Security was tight before the ambulance and ministers' cars arrived. Journalists were barred from the area where the stretcher was placed inside the airport.

Muthaura spent three days at the Nairobi Hospital's High Dependency Unit ward, where his doctors monitored him while undertaking tests.

President Kibaki visited him twice before leaving for Libya, as did several other senior Government officials.

Symptoms of narrowed arteries include stroke, heart attack, heart disease where one feels pain in the chest and peripheral vascular disease, according to multiple online medical sources.

Patients are advised to see a doctor if they experience crushing pain in the chest accompanied by nausea, vomiting sweating, shortness of breath, weakness or intense feelings of anxiety.

Sunninghill is a chain of 49 private hospitals and trauma services in South Africa; three of which are managed under public-private partnerships. The hospital website declares: Cardiology has become synonymous with the name Netcare Sunninghill Hospital. The high technology and expertise of our cardiologists ensures our cardiac patients receive world-class treatment.

"Patients requiring complicated cardiac intervention have been part of live workshops that have been beamed to national and international cardiac congresses."

"Doctors expect him to be back within a week or two. The kind of procedure he might undergo is carried out a lot and the hospital he is visiting does about 40 cases a week," Mutua said, in his statement.

"Ambassador Muthaura is expected to have a very good outcome and to be back to his normal work routine."

Reporting by Peter Opiyo, Cyrus Ombati and Fatuma Fugicha
ODM: Tribunal debate splits leaders
Orange Democratic Movement is grappling with strain set off by shadow wars between its top leaders over which way to go: The Hague or a local tribunal?