Counties' revenue down on Covid-19
Revenue collected by counties reduced significantly last year even as absorption of funds fell amid the coronavirus pandemic.
This is according to a report by the Controller of Budget on county governments budget implementation review for the first half of the 2020-21 financial year.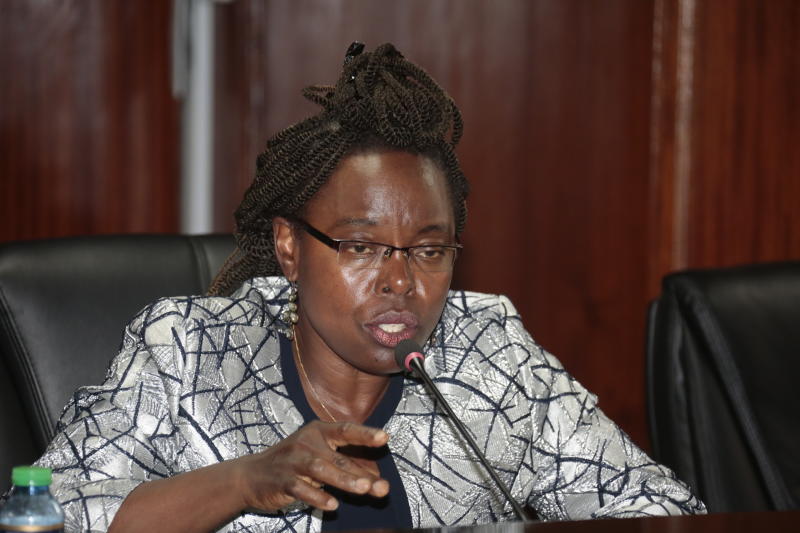 Controller of Budget Margaret Nyakang'o (pictured) said counties generated a total of Sh12.72 billion from own source revenue compared to Sh15.33 billion collected in the same period of the previous financial year.
"We recommend that the county treasuries should develop and implement measures to enhance own revenue collection for sustainable budget financing while monitoring performance in order to make appropriate interventions during the Supplementary Budget process," she said.
According to data from the controller of budget, Tana River, Busia and Migori counties achieved the highest own-source revenue as a proportion of the annual target at 61.9 per cent, 43.2 per cent and 41.5 per cent respectively.
Those that recorded the lowest proportion of own source revenue were Isiolo at 8.8 per cent, Narok at 10.7 per cent and Homa Bay at 11.1 per cent.
Counties also faced challenges in absorption of funds allocated to them with late disbursement of funds cited as the major cause of the slow intake.
Take a quick survey and help us improve our website!
Take a survey
Within the review period, county governments received Sh143.77 billion where Sh26.75 billion was budgeted for development expenditure while Sh117.02 billion was for recurrent expenditure.
The total expenditure by county governments in the first quarter of 2020-21 was Sh134 billion, representing an absorption rate of 27.8 per cent of the total annual budgets.
The absorption rate was a decline from 29.5 per cent attained in a similar period of 2019-20 when total expenditure was Sh143.27 billion.
Absorption rate is used to measure performance and is computed as a percentage of expenditure against the approved annual budget.
The report came a week after Nairobi County revealed its revenue projections for the next financial year.
The city announced an ambitious Sh19.8 billion own-source revenue for the 2021-22 year as part of its Sh37.3 billion proposed budget, as highlighted in the County Fiscal Strategy Paper.
The county heavily relies on revenue streams such as parking fees, rates, business permits, house rents, building permits and billboard advertising, which account for close to 80 per cent of the county's annual own-source revenue.
Nairobi has been falling short of its revenue target since devolution started in 2013, despite the digitisation of 136 of its revenue streams.
This has been blamed on unreliable rates, low collection from single business permits and inefficient collection of parking fees.
The highest amount collected so far was Sh11.71 billion in 2015-16 which was still short of the county's Sh15.3 billion target.