Rivatex spreads its wings to Nyanza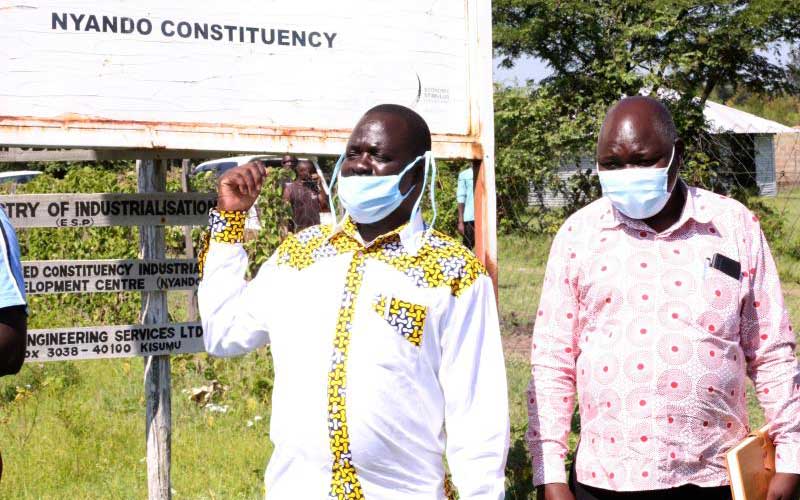 Eldoret-based Rift Valley Textiles (Rivatex) is now spreading its wings to Nyanza region.
The company's business entry into Nyanza is set to revive cotton growing in the region and provide employment opportunities to over 3,000 people.
It will set its first factory at Boya in Nyando, Kisumu County.
Senior officials from the firm toured the proposed 2.5-acre site for the new factory, where they held discussions with area MP Jared Okello and other local leaders.
"This will be our first tailoring section outside the company," Rivatex Factory Manager Richard Tanui said.
With the construction of the tailoring section at Nyando, there are high hopes that cotton farming in the region that stopped with the death of Kisumu Cotton Mills (Kicomi) in the 1990s will be revived.
The tailoring section in Nyando Sub-county will be involved in stitching garments as apparel making will be done in their main offices in Eldoret.
Mr Okello stated that in collaboration with the national government and the county government, Rivatex had set prefabs in the area that would take a few days to be completed.
Mr Tanui said the factory was set to open other tailoring sections in other counties to create employment.
"We are currently making over 20,000 metres of fabric and in that value addition we want to explore ways of creating employment across the country," Tanui said.
The Eldoret-based factory, which has a capacity of using up to 70 bales of cotton a day, cited a shortage of the commodity and urged the government and the county governments to encourage residents to start growing it.
"We do not have enough cotton in Kenya and the cotton we use is not enough to run Rivatex," Tanui said.
Okello urged residents to start growing cotton, adding that testing of cotton that would produce better yields would be put in place.
Tanui did not give details about the project and its cost. "We are yet to get the details of the project; other details will come as we continue," Tanui said.
Nyando Assistant County Commissioner Jacinta Ogada appealed to youth and parents to change their perceptions and take their children to polytechnics, which would provide them with skills to apply for opportunities at the factory.