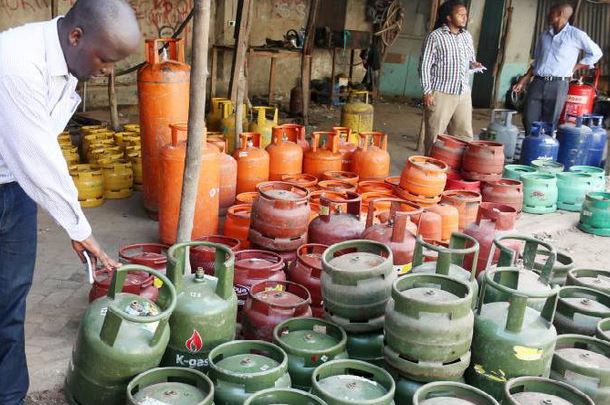 Energy and Petroleum Regulatory Authority has set tough conditions for gas cylinder dealers, and those found going against the new terms risking a five-year jail term or Sh10 million fine.
In a public notice, the authority says that all LPG cylinder retailers, wholesalers, and transporters are required to be in possession of licenses from the authority for each business location and shall be specific to authorised cylinder brands only.
It also states that LPG cylinder retailers, wholesalers and transporters shall henceforth not undertake the business of retail, wholesale or transportation of cylinders of another brand owner without prior written consent from the brand owner.
According to the authority, the order follows increased public safety concerns on the use distribution, retail and transportation of the cylinders.
"Sanctions provided for the offences under sections of petroleum act says on conviction, one will be liable to a fine of not less than ten million, or a term of imprisonment of not less than five years," reads the notice for EPRA communications department.
Read More
"We urge members of the public to take not and be vigilant and to immediately report non-compliance," it adds.
It is hoped that by disbanding the Liquefied Petroleum Gas (LPG) cylinder exchange pool that allowed consumers easy access to gas, the industry would effectively deal with illegal refilling.
The regulator assures consumers of safety away from the incidents of exploding gas cylinders that have been on the rise in the last decade and blamed on illicit gas re-fillers.
The new rule is set to make filling gas harder for many Kenyans as they will soon no longer have the convenience of buying cooking gas at their neighbourhood kiosk or the nearest petrol station.
They will instead only refill at outlets run by oil marketing companies that own the brand of their gas cylinder.
While the new rules are bound to greatly inconvenience consumers, they will, on the other hand, enhance user safety as they squarely place the responsibility of ensuring gas cylinders are safe on the LPG marketers.
This means the marketers will be directly answerable for accidents caused by gas leaks, including compensation to victims.
"The current regulations had not been clear as to who owns the cylinder between the user and the marketing companies. The new regulations are clear that the brand owners are the owners of the cylinders and if there is an accident, the owner will take responsibility," said Pavel Oimeke, director-general Energy and Petroleum Regulatory Authority (EPRA) in an earlier statement.