The secrets of Aberdares and the Blue Ocean Strategy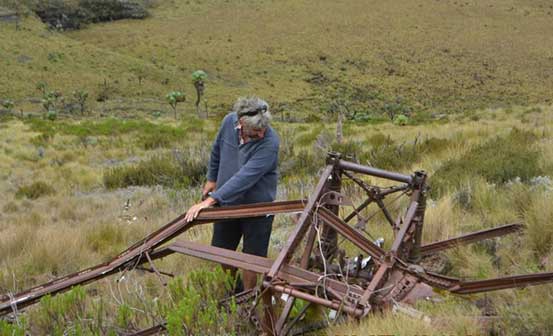 Rumours can be a great source of ideas. For years, persistent rumours of plane wreckage have swirled on the western edge of the Aberdares.
Last year, we decided to look for facts. The first contact was a Mau Mau veteran, Nduhiu wa Warugongo, who lives near Wiyumiririe, off the Nyahururu-Nyeri Road.
He worked in one of the white settlers' farms in 1948. He confirmed that several planes call the Aberdares their grave yard.
Two other gentlemen -Irungu Wariega and Ndungu Wanjohi - offered to show us some of the wreckage. The first trip on September 10, 2016 yielded nothing after a day walking in the waterlogged moorlands past the tree line.
You need gumboots. We speculated the plane was sold off as scrap metal. Driving 200km to end up not seeing any wreckage was disappointing. Our only consolation was the beauty of the moorlands. It was surreal as if it had remained untouched since creation.
Undaunted, we returned on October 2. Tom Lawrence, a history enthusiast from Nanyuki joined us. From Shamata gate, 30km from Nyahururu, we drove another 10km into the Aberdares National Park, parked our cars and started the four-hour walk up the mountain. Big rocks jutting out of the moorlands added to the picturesque beauty of the land.
At 1pm, we went up the last hill overlooking the source of Malewa River (the one you cross just after Naivasha town). And lo, on a hill was the plane wreckage.
However, not much remains of the plane – a couple of undercarriage housings, the leading edge of the wings, landing gear, stainless steel pieces, plastics, rusty pieces, gears, and springs and other pieces scattered all over.
Take a quick survey and help us improve our website!
Take a survey
Hard questions
The two Mercury XV engines seem to have disappeared, along with much of the aluminum that covered the plane.
Atop the the peak, Ol Kalou and Nakuru could be seen far to the west, while Satima peak stood defiantly next to us. The caves freedom fighters hid were within sight. The soft flow of the crystal clear waters of Malewa River disrupted the afternoon quiet. We let out a sigh of relief; finally the plane wreck was a reality.
For two hours, we searched for any date on the wreckage. There was none. After we had gotten our initial fascination, we started asking the hard questions.
What brought down the plane? When? Locals say it was brought down by Mau Mau freedom fighters; specifically by one Ndungu wa Gaceru.
Did the freedom fighters have anti-aircraft guns? Was it that easy to bring down such planes? It is possible that in a war situation, that was good propaganda.
Tom, after doing a lot of research, has suggested the plane probably crashed in 1942. We do not know how, but he concluded that there were at least three occupants in the plane when it went down.
Ndungu and Wanjohi told us that in 1985 when the wreckage was first found by locals, there were three skulls nearby. That seemed to confirm Tom's theory, which indicate there were three people on the plane and their remains were never retrieved.
Why after all these years are their remains still lying around? Who were the said trainee pilots?
Why has the plane remained there for 75 years? Which is its best resting place? Kenya National Museum or a new air and space museum? Can we include artefacts from The Luigi Broglio Space Centre (BSC) - an Italian-owned spaceport near Malindi developed in the 1960s through a partnership with NASA?
Research shows there are other plane wreckage scattered all over the country. Tom Lawrence has listed some of them.
According to his data, Lockheed Lodestar crashed at Kinangop on the eastern side of the Aberdares on November 29, 1943. Eleven people died in the crash. Rain and low clouds meant it was not found until January 1, 1944 as reported by Humphrey Slade (Former Speaker of Kenya National Assembly) and Harry Shewen.
Monty Brown went to the Lodestar site in 1953 while with the Kenya Regiment during the Mau Mau war and again in 2010.
Other crashes from the same period include a Lincoln Bomber found in Kinangop on the eastern side of the Aberdares and three Harvard Trainer Aircrafts near Satima.
A Lincoln bomber also crashed at Githunguri during Mau Mau war while a Blenheim crashed at Menengai on February 21, 1942.
Tourist attractions
Another Blenheim crashed near Kampi-ya-Moto on November 26, 1941. A Sunderland flying boat is also documented to have crashed into Sagalla Hill, near Voi on December 29, 1943, killing nine people on board.
So far, it has been ascertained that 113 Blenheims crashed in Kenya between 1941 and 1943.
It seems in years gone by, plane crashes were as common as road accidents in Kenya before technology in plane design and navigation improved.
Do you know of any of such crashes in the past? Can you share with us? And in the spirit of Blue Ocean Strategy, should such wreckage not be the new tourist attractions?