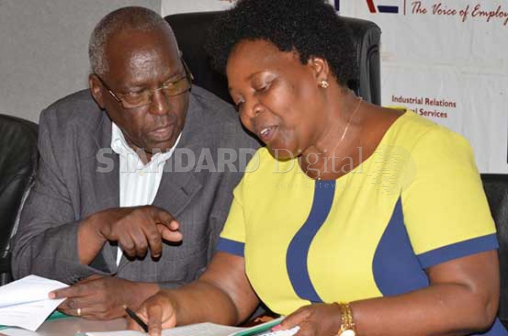 Workers should not expect an increment in minimum wage as the country plans to mark this year's Labour Day celebrations on May 1.
Federation of Kenya Employers (FKE) has made it clear that it does not expect an upward review of the statutory minimum wage in 2016.
The employers further criticised the way in which the President's office usually announces this increment, and said although this was within the Head of State's legal purview, a clear policy framework should be developed so such pay rises are 'reasonable.'
FKE said the ever-rising cost of living does not justify increasing the minimum wage so often.
"At the end of the day increased wages do not necessarily increase purchasing power as employers still have to pass the extra cost of human resource to the consumer," said FKE boss Jacqueline Mugo.
Read More
Instead, FKE wants to be consulted by the Central Organisation of Trade Unions and the government before minimum wage adjustments.
Cost of living
Former FKE Chair Erastus Mwongera said such pronouncements are often made without due regard to crucial labour factors.
"Such a system poses a big problem for employers and investors as Kenya risks becoming uncompetitive in the region due to high labour costs," said Mwongera.
Cotu has already demanded a 40 per cent increase in minimum wage and said this should be announced during this year's Labour Day celebrations. However, its position has been challenged.
"It is not advisable for such an increment considering that the last time the minimum wage was increased was in 2015. It is necessary to give businesses some 'breathing space' before another increment is warranted," said Mwongera.
The current minimum wage for Kenya is slightly below Sh10,000 which is almost double the amount in Tanzania, with Uganda having not reviewed its minimum wage for almost decade.
The employer's federation is currently preparing for its summit in Nakuru County from May 5 to 7.
A major topic for discussion will be how to manage the big number of unemployed youths. About 67 per cent of these youths are unemployed even though they are skilled but are unable to take available jobs because they have been ill prepare by the education system.
More than 90 per cent of jobs created are in the informal sector. This sector can expand if its tax burden is reduced.
"Formal employment accounts for only 13 per cent; a clear indication it has failed to keep pace with the rate of economic growth hence no change is seen on the ground yet the economy is growing by seven per cent more than some developed countries," said Mugo.