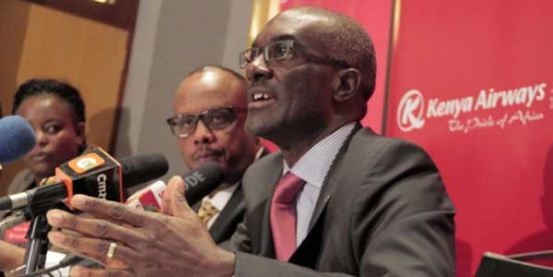 NAIROBI, KENYA: Pilots have given Kenya Airways top management seven days to quit or face unspecified consequences, adding a new dimension to the clamour for change at the airline.
The Kenya Airline Pilots Association (KALPA) Thursday issued a 'vote of no confidence' in the current management team at of the airline.
"While we strongly believe that Kenya Airways has the ability to weather the current storm, it is crystal clear that the current management is not sufficiently equipped to safely see The Pride of Africa through the current turbulence," KALPA chief executive captain Paul Gichinga said.
The Association wants the current management team including all directors to resign with immediate effect.
Read More
KALPA wishes to inform all the airlines stakeholders that should the above officials fail to tender in their resignation within seven days of this notice, the association will pursue other options to ensure a change in tide in the airlines operations," the press statement read.
This comes even as Treasury indicated that more changes are expected at Kenya Airways as it starts implementing a turnaround plan that includes restructuring of the top management team.
The airlines finance director Alex Mbugua was sent home on Tuesday, making him the first casualty of the restructuring plan after serving almost eight years at the national carrier.