Unscrupulous traders target youth to win State contracts
By Nicholas Waitathu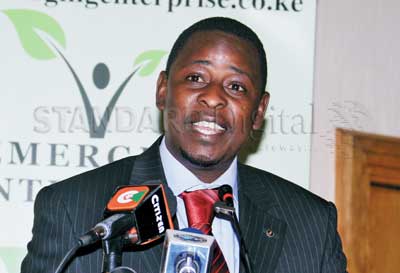 Youth Enterprise Development Fund Chairman Gor Semelang'o.
The Government and youth entrepreneurship promoters have raised alarm over the possibility of unscrupulous traders using the youth to win State contracts.
It is feared some dealers will bid for State contracts using young people, women and disabled entrepreneurs. They will front them as substitutes on claims that the latter lacks adequate capacity to exploit the public procurement opportunities.
Black market
Social Impact Institute – Africa (SII), a capacity building firm, warns that traders who operate in the black market are likely to take advantage of the State's inability to fast track public procurement opportunities.
Wanjiru Gathira, the SII managing director, stated the wayward dealers could apply tactics to ensure they benefit from the government business. This, she says will be by sponsoring youth groups financially and preparing for them tender documents.
"We are likely to witness a situation where new companies will be registered by youth who will have been sponsored by strong forces in the business sector and which might be difficult to detect," Gathira said.
She made the remarks during the launch of Emerging Enterprise in a Nairobi hotel, where young entrepreneurs formed to lobby to advocate for public procurement space.
Gathira said dishonest business actors will be interested in exploiting the opportunities so as to enjoy preferential treatment as provided in the Public Procurement and Disposal (Amendment) Regulations, 2013.
She gave an example of South Africa, where unscrupulous business players abused the procurement process by sponsoring youth to tender for government business.
Gathira warned the youth to be wary of such business people.
She said lack of data on procurement is major constraints hence denying young entrepreneurs a chance to apply for government tenders.
"Inadequate information is a big setback to youth interested in exploiting public procurement opportunities," Gathira said.
"There is need to carry out studies which can shed more light on how public procurement data can be generated for policy concerns."
Protection of youth
She confirmed her organisation will intensify training and building capacity to youth, women, and disabled people. She said this will ensure the challenges are contained.
Youth Enterprise Development Fund Chairman Gor Semelang'o said his institution will ensure youth are protected against manipulation by big businesses.
"We will be vigilant to ensure tenders intended for youth are awarded to the right people. For every tender applied our officers, we will be consulting with relevant authorities such as the Registrar of Companies and Ethic and Anti-Corruption Commission to ensure the procurement is well scrutinised," he said.
The chairman of Emerging Enterprise, Calvin K'odongo urged youth entrepreneurs looking to grow businesses with support from the State to familiarise themselves with standard procurement requirements and laws.
"We already have the youth covered under the target groups for preference and reservation schemes under the law in reference to the procurement laws. This gives the youth entitlement to 30 per cent of the total government procurement business," K'Odongo said.
Weak start to the year for tourism
Tourism industry started the year on a low, with the arrival numbers for the first two months of the year seeing a significant dip in the number of international arrivals.