Standard Group sign three-year deal with Eldoret's premier 42km race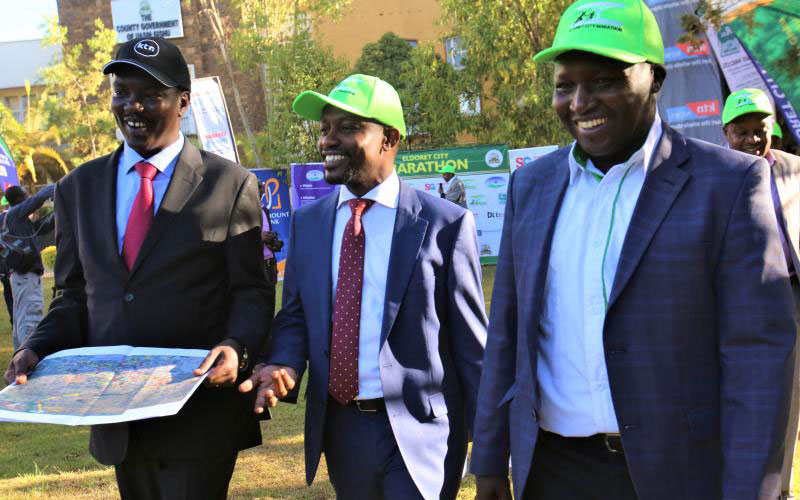 The Standard Group yesterday signed a three-year media sponsorship deal with the Eldoret City Marathon ahead of the second edition set for April 21.
This followed the unveiling of Media Sponsorship at the Uasin Gishu county headquarters attended by Governor Jackson Mandagor, Standard CEO Orlando Lyomu and Eldoret City Marathon organisers, led by two-time Boston Marathon winner Moses Tanui.
Lyomu, while speaking at the event held at the Uasin Gishu county grounds, said Standard Group has been steadfast in supporting sports and will be the media sponsor for the marathon for the second year running.
"Ultimately, we hope to contribute to the success of the marathon and ensure the definite goal of environmental conservation is achieved. I am glad that after the first edition over 50,000 seedlings have been planted in Uasin Gishu and its environs," Lyomu said.
The need for a conducive environment, Lyomu said, plays a crucial role in the training of athletes and Standard Group stands at the forefront of environmental conservation.
He challenged corporates to support initiatives set by former athletes such as Eldoret City Marathon, which helps local athletes.
"When people come out with such initiatives, then it's our responsibility as corporate to support them. We look forward to many other editions where we can be media partners. As business grow, the Eldoret City Marathon will no doubt become the most talked about event in athletics calendar," he added.
During the event, Uasin Gishu County Government donated Sh15 million towards the marathon while The Standard Group gave Sh5 million towards the coverage of the marathon.
Stanbic Bank gave Sh5 million, Paramount Bank Sh3 million, DL Group of Companies Sh3 million and Eldowas Sh1 million during the Media Sponsorship breakfast meeting at Uasin Gishu County headquarters. Lyomu, who was flanked by commercial director Irene Kimani, said sports is among initiatives the company has decided to venture in.
Mandago, who welcomed the support from The Standard Group, also appreciated support and coverage from the media on the county.
He appealed to the youths to turn up in large numbers for the event, insisting that the marathon is meant to ensure the county improves on forest cover.
Tanui, the first man in the world to run 21km in less than one hour, said the race will attract a host of world-beating athletes, adding that registration fee remains Sh1,200 for marathon participants. Sh18 million prize purse will be out with winners receiving Sh3.5 million, making it the highest paying marathon in Africa.
"We want to rate ourselves with the rest of the marathons in the world," said Tanui.