Volunteers give Nairobi street families a rare treat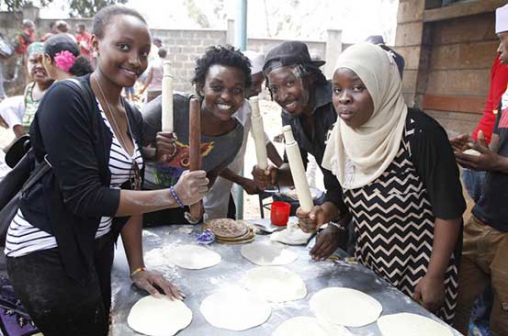 When hundreds of volunteers — led by the State Senior Director of Digital and Innovations Dennis Itumbi — came together to throw a 'chapati' party for city street families last Saturday, the extravaganza stirred up a new social movement among the youth. STEVENS MUENDO reviews the forum
I had never seen so many street families together before. Even the street families never had a union like that. Their attendance stood at about 3,000. It looked like a new movement; probably it was.
As early as 5am that Saturday morning, hundreds of volunteers; celebrities, political leaders and others, who had been meeting through a social media forum christened Chapati Movement, paraded their kitchenware at Moi Avenue Primary School ready for the big day.
Their guests; the street children, did not need a sign for it. Besides, the venue borders downtown Nairobi, where street families run the show and command power. In small gangs, the rugged street boys started streaming in for the "meal of a lifetime".
There were 11,450 'chapatis' in total. By 2pm, when the convener of the event, State Senior Director of Digital and Innovations Dennis Itumbi took to the stage to unveil his birthday cake (for the ceremony too marked his birthday party), all the 'chapatis' had gone. In fact, satisfied, the street families had by now opted to leave the feeding zone and attend the counselling sessions before entertainment took centre-stage.
With leading entertainers such as Sauti Sol, H_Art the Band, Daddy Owen, deejays Joe Mfalme, Andrian and Kid as well as comedians Chipukeezy and David the Student as well as top acts from the film industry leading the counselling and the talent search session, what a dream come true for these street kids this was, as they mingled freely with the stars they hardly have an opportunity to meet.
The forum was more than a 'chapati eating' theatre. Away from the 'chapatis', the mission was to show love to the less privileged. There were medical camps offering free treatment, salon and barber shops offering grooming services, music promoters and other talent-search specialists as well as educational sponsors and well-wishers sponsoring the street children to join rehabilitation and educational institutions. A total of 87 street children got educational sponsorship.
"The action-filled event was volunteer-driven and the politicians who attended it only came in as volunteers. There is nothing political about this. I was not launching a political movement," Itumbi told Standard Entertainment when challenged to respond to critics politicising the forum.
Members of the popular uptown women movement, branded Kilimani Mothers, had criticised the 'chapati' day, wondering if the delicacy was a top priority in solving the street families' problems.
Scores of members of the Chapati Movement shot back, terming the criticism as ignorant accusing the chapati affair critics of not seeing the bigger picture.
But the Kilimani Mothers fears were not unfounded. Many forums that start off with good intentions are later hijacked by politicians. Others turn into civil movements that advocate for change.
Given that the active members of the Chapati Movement are youthful opinion makers and showbiz celebrities who are role models to the youth as well as young politicians, many have viewed this as a likely agenda of change, something many youth interviewed did not have a problem with.
"We had many children sharing their dreams and we have been doing a follow-up all day. Some who had dropped from school are being helped to get re-enrolled and a number of street mothers were given capital by volunteers to start businesses. Others got job opportunities. Such is the power of simple movements. Many of them start with a meal," Itumbi said.
"But you are in the Government and you are aware that money has been set aside through the Street Families Rehabilitation Fund to cater for such," I challenge.
"I don't think Kenyans want to sit down and wait for the Government to solve every problem in the society. As individuals, we must learn simple virtues like sharing and being our brothers' keepers," he poses.
"There is a difference between Itumbi the civil servant and Itumbi the person. I was doing this as my way of giving back to the society," he remarks, then adds: "We will cook more 'chapatis' across the country. As we do so, we will have opportunities to discuss the state of our nation. The chapati crusades are here to stay."