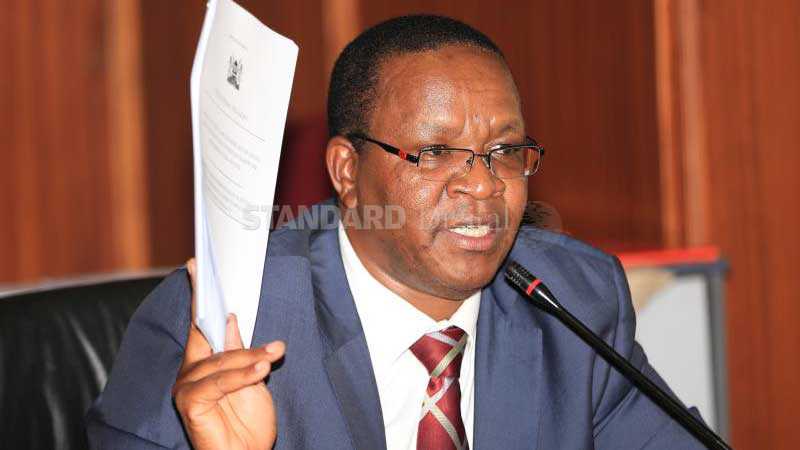 Interior Permanent Secretary Karanja Kibicho has hinted on a likely phased re-opening of the country even as Kenyans await eagerly on the new measures set to be announced on Saturday. In an interview with
Radio Citizen
, Kibicho said the government had found itself in a difficult position since recorded Covid-19 cases in the country are on the rise but noted high-level discussions were ongoing. "We cannot lock-down forever, the government makes its money from taxes, currently people are not at work, personally I think we can re-open but under strict guidelines," Kibicho said. According to the PS, some restrictions may be lifted although the government will not be relaxing the requirements on face-masks and social distancing.
SEE ALSO: Covid-19: Kenya records 309 cases in last 24 hours
"Companies willing to re-open will need to ensure guidelines on face-masks and social distancing are adhered to because the new coronavirus is still here with us," he added. Kibicho urged Kenyans to remain vigilant and not to expect a sudden normalcy saying the re-opening of the economy was a very delicate balance requiring the participation of everyone. On Saturday June 6, President Uhuru Kenyatta is expected to give a way forward in regard to cessation of movement in the affected counties. The previous containment order directive affecting Nairobi, Mombasa and Kwale counties will elapse on Saturday. The daily dusk-to-dawn curfew which had been extended by a further 21 days will also be lapsing on June 6. On Monday during Madaraka Day celebrations held at State house, President Uhuru Kenyatta hinted at the reopening of places of worship.
SEE ALSO: Britain puts Sh1 billion into study on long term effects of Covid-19
While delivering his speech, the President said he shared the heavy hearts of all those who can no longer worship as they used to. "I direct the Ministry of Interior and the Ministry of Health to continue and hasten their engagement with religious leaders; with the objective of developing protocols that will be adopted to guide a more participatory way of worship while guaranteeing the safety of worshipers," he said. During his seventh national address on the progress made in containing the virus in the country, the president noted that every Kenyan would have to take responsibility to prevent the spread of the highly infections virus. "We will not continue with the lock-down and the curfew, I have told health officials and my ministers that they should start telling Kenyans that we cannot be under a curfew or lock-down forever," he said.