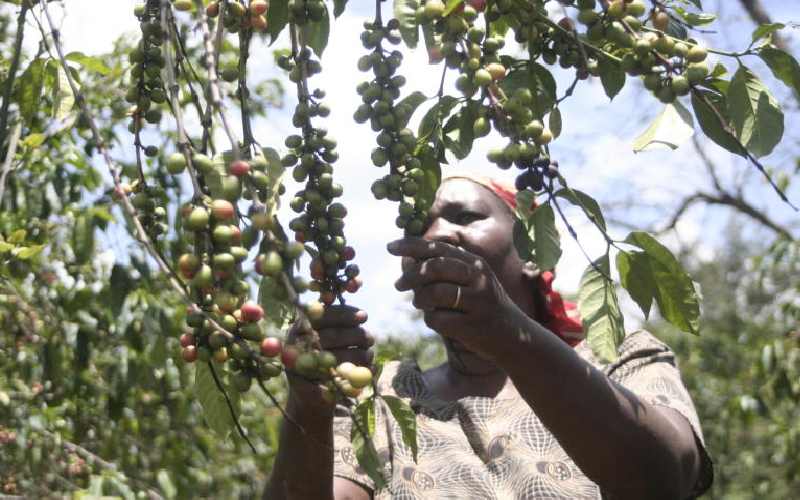 The New Kenya Planters Cooperative Union (NKPCU) is starting operations with Sh7 billion assets and a State funded Sh3 billion cherry advance kitty after completion of the liquidation of its predecessor. The NKPCU will be the custodian of buildings and parcels of land that were under control of the defunct Kenya Planters Cooperative Union (KPCU) that went under 12 years ago owing millions of shillings to coffee farmers and local banks. The handover of properties from KPCU to NKPCU has been going on for the last two weeks and is expected to close at the end of the month. NKPCU board of directors led by Henry Kinyua appointed six months ago by the government has now welcomed Joel Imitira as acting chief executive officer after he was seconded by Agriculture Cabinet Secretary Peter Munya.
SEE ALSO: Battle of wits and tactics as Uhuru and Ruto eye 2022
The new CEO is overseeing the handing over and is working with liquidators Stephen Njoroge and Anthony Waithaka. Property estimated at Sh7 billion registered with the defunct organisation was verified for handover during the process. In the past two weeks, coffee milling plants located at Meru, Sagana and Dandora were handed over to the Kinyua-led team. This week, there will be handing over of warehouses and other assets that were traced at Nanyuki Railway Godowns, Tala, Bungoma and Nakuru. The liquidators also verified documents of unpaid coffee deliveries mainly for the crop year 2008/2009 and cleared most of the debt using a Sh300 million government grant.
SEE ALSO: Uhuru allies plot final blow against DP's Jubilee men
In total, the liquidators have used Sh50 million to pay for deliveries while the Kenya Commercial Bank has received Sh225 million to release titles of properties that the defunct KPCU had placed as security for various loans. In January, President Uhuru Kenyatta appointed Kinyua, a former Nyeri County Executive for Agriculture, to chair the rebranded NKPCU board. Mr Munya then appointed members of the board to run the revived miller. Acting Commissioner of Cooperatives Geoffrey Njang'ombe said the liquidation process was coming to a closure this week as liquidators had finished their part. He said shares bought by farmers will be transferred to the new organisation.
SEE ALSO: Mr President, where are the nine stadiums, 500, 000 houses?
"The team verified registers of the shareholders and ascertained all the shares will be transferred to NKPCU," said Njang'ombe. The defunct organisation had 703,000 members drawn from 300 cooperatives and 2,000 estate farmers. Its milling equipment, the experts disclosed, have the capacity to mill 34 metric tonnes of coffee per hour. "Already many societies in Murang'a, Meru and Kirinyaga counties have signed milling and marketing contracts with NKPCU," said Kinyua. Two weeks ago, the High Court lifted orders that restrained the rebranded organisation from executing its mandate. Judge John Makau lifted the orders allowing NKPCU to proceed with milling and marketing of coffee as well as administration of the Sh3 billion through Coffee Cherry Advance Revolving Fund. The orders were sought in March by farmers led by Shadrack Wasilwa, who argued that that Cabinet Secretary for Finance erred by disbursing approximately Sh3 billion through administration of NKPCU rather than Commodities Fund. Agriculture Food Authority was accused of licensing the organisation as a miller and a marketing agent using infrastructure of the defunct body.