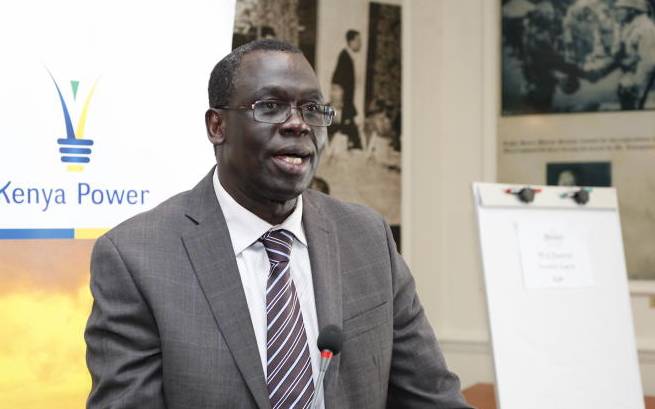 Kenya Power has barred third party vendors handling tokens in part of changes to tackle widespread billing fraud that is threatening the firm. Chief executive Jared Othieno yesterday directed consumers only to pay their bills and buy tokens through the mobile money platform effectively locking out vendors. "To avoid potential loss through fraud, we wish to request our clients to only buy their tokens or settle their bills through authorised channels, and in particular through M-Pesa Paybill numbers 888880 and 888888 for pre-paid services and post-paid services respectively," he said. But he could not explain why customers who bought stolen tokens innocently should pay for the fraud.
SEE ALSO: Kenyans deserve lower electricity rates than Kenya Power charges
Kenyans poured their outrage at the "absurd" decision to surcharge innocent consumers for theft of tokens by the power distributors own employees. It has been established the stolen tokens were sold to unsuspecting customers through Kenya Power's appointed agents, who ensured the sales never got to the utility firm. Consumer Federation of Kenya (Cofek) has protested the move saying any theft executed by the employees should never be passed on to customers. Cofek CEO Stephen Mutoro said it was both illegal and unethical for the firm to charge consumers to cover losses they were not responsible for. "If it is employees have stolen and customers have nothing to do with the theft. We need to have a commission of enquiry as this matter goes beyond the DCI," Mutoro said.
SEE ALSO: New Kenya Power board members named
He had sought to understand in what capacity the DCI could direct the firm to recover the losses from consumers. Explanations by Kenya Power of what happened leading to debit balances yet they were on a prepaid plan left them confounded. In one account, Harry Mburu was told past system errors caused the billing computers to repeatedly generate tokens worth Sh1,200 every time they made electricity purchases worth Sh500. Cumulatively, he had consumed excess tokens worth Sh7,400 which he now has to pay up before any other power units could be bought for his account. Those who had complained of the anomaly of having negative balances in their accounts were directed to report to the DCI.
SEE ALSO: Kenya Power: How the lights dimmed on a monopoly
Maurice Awiti said the firm should recover the money from its staff instead of punishing consumers. "Me thinks Kenya Power should spare the consumers the headache when making recoveries," Awiti said in a mailed response. Mercy Olongo said she learnt of the anomaly on Monday when she attempted to buy electricity units. She was later told she had accumulated charges worth Sh7,820. "They said somebody hacked their systems and was giving free or more units so they were claiming their lost units."