Hustle
The police location services on our platform are actually free.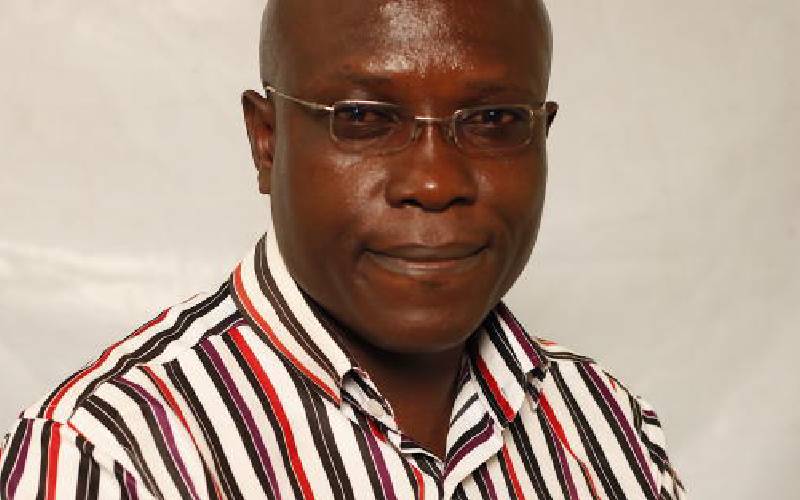 ResQ247 Limited is a digital company that provides logistical support in emergency situations such as medical, fire and roadside emergencies. "We are doing this through a mobile App. This should cut response time to emergencies drastically thereby saving lives," says Moses Omeri, founder and executive director. About 54 per cent of deaths that result from emergency-related situations in Kenya happen between the time of the emergency and when the victim arrives at the hospital. Omeri became conversant with this statistic when the idea of ResQ247 dawned on him.
SEE ALSO: Joho donates masks to be distributed to public at road blocks
Omeri, a pilot, also holds a degree in Electrical engineering from Moi University. Faced with the statistics, he wondered: Can these deaths be reduced? From that question the company was formed. Omeri calls ResQ247 the Uber of rescue services. It's a high stakes tech business with a promising future. Just how did he pull it off? Why do you call ResQ247 the company of the future? Because the App can be deployed in a wide range of disciplines such as climatic change, health monitoring (disease control, vaccination), crime monitoring and other emergency type situations. Emergencies resulting from road accident, fires and other injuries of medical nature do not have to claim these many lives. Technology has been used to make things better. There is no reason why we can't employ technology to carry out much more effective rescue services in Kenya. How does the ResQ247 App work?
SEE ALSO: Five petitioners quest to save MUSCO
When logged into the ResQ247 App, users can request for rescue assistance, fire fighter services, an ambulance, vehicle towing and other road services. Once a request is made, a prompt is sent to the back-end and the nearest service provider responds within the shortest time possible (not more than 10 minutes) thereby minimising risk of death. The ResQ247 App too has a security component that enables one to locate the nearest police station, in case they are faced with an issue of a criminal nature. What were the underpinnings behind this digital rescue service? A while back Kenya began experiencing frequent and sporadic terror attacks. Westgate and Garissa University incidences were horrible. We are living in a time where one can need rescue of any nature. Also, lately the government has been very keen on providing Universal Healthcare (UHC). Effective emergency services, I believe, will be part of UHC ambitions. You think Kenyans don't carry with them emergency numbers to reach when in trouble? Between 2015 and 2017, as I was laying down the idea for the company, together with a small team I had set up, we analysed data on emergency preparedness by the average Kenyan. We asked random Kenyans questions on how they would react in case of an emergency. Our findings showed that just about 5 per cent of Kenyans have an emergency number to call when in distress. A whopping 95 per cent don't.
SEE ALSO: Senate seeks to protect investment by Moi University staff
How did this data help you in designing the business? Initially, when the idea dawned on me, I didn't think it would end up with an App. This data helped us understand the extent of the problem and also helped us configure the services we would be offering to specifically address the gaps. How did the idea dawn on you? In 2013, while working from Wilson Airport, we received a distress call from Turkana. A lady had given birth and was bleeding badly. She needed to be airlifted to a facility that could handle her case. Flight time to Turkana was approximately an hour and 20 minutes. The closest place to Turkana where we could find a facility that could handle her case was Eldoret. The flight to Eldoret was about 45 minutes. She didn't make it. Later, as I was thinking about the whole thing, I realised had she been seen at a closer facility she probably would have survived. The problem was that no one close to her had an ambulance number to ferry her to the nearest health facility. I thought: what if Kenyans could access emergency numbers and send a distress call at the earliest opportune time? It would be very important especially today coming in the wake of recent terror attacks. How would the App user reach the police? We approached the office of the Inspector General of police and explained how partnering with them would make Kenyans much safer. The App has GPS locations of every police station in the country. When you turn your GPS on and click on the App then select 'Police' you would be able to locate the nearest police station. You can drive there or call for help. Why did you introduce the security aspect in the App? The police location services on our platform are actually free. We realised that someone who has a medical emergency, fire emergency or road emergency will most likely also need the police present at the scene. For instance, if you had an accident anywhere on our roads, you will need an ambulance, a tower, and the police. If you have the ResQ247 App you will be able to reach all of them. How about Kenyans who don't have smartphones and cannot access an App? We have a call centre and a 4-digit toll-free number that any Kenyan can call when in distress. When that happens our call centre staff will be able to coordinate with rescue service providers near your location of description to come for you. How do you make your revenue? ResQ247 works with all reliable and approved emergency services providers. We work with reputable hospitals that are open 24/7, ambulance companies and fire rescue services. When an App user is able to get a service from a company that is on our platform they will pay the company for the service. The company in turn pays a commission to ResQ247. So far, who are using your App? Now we are working with clients from Insurance companies providing emergency rescue services as part of insurance covers for their clients. We have also signed up corporates who would love to sign up for rescue services for their staff.