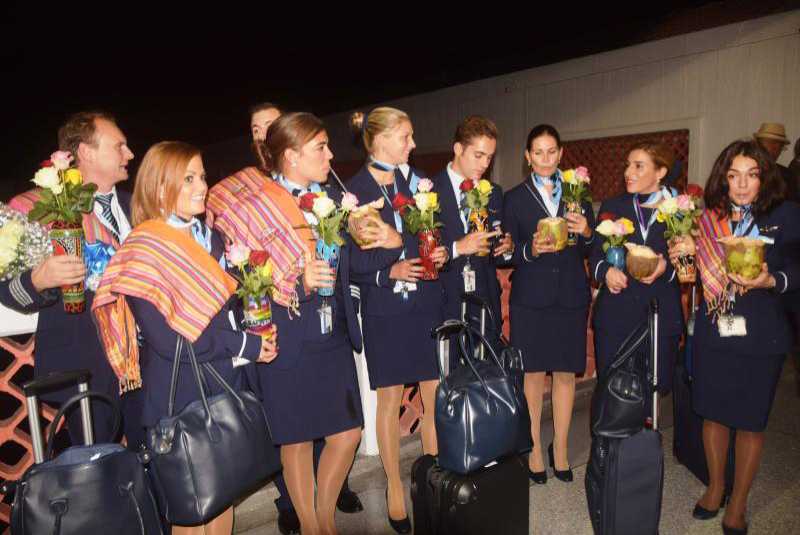 After a five-year break from flying into Kenyan Coast, Tui Fly from Brussels returned to a thunderous welcome reception on Friday night at the Moi International Airport (MIA) Mombasa after its flight touched down at exactly11.17 pm.
It was sheer coincidence when Captain Bruno Vercaemst who was at the commands from the city of Brussels landed the Dreamliner 787 aircraft.
'' I flew the last flight out of Mombasa five years ago when we ceased operations here and here I am today flying back to this beautiful city,'' Captain Bruno told journalists.
Also, on the flight that had a two-hour delay from its point of origin owing to an ongoing industrial strike by a section of airport staff was Belgian Honorary Consul to Mombasa, Mr Henrick Diernick.
Read More
'' This is a dream come true for many would be Belgian tourists who in the absence of such a flight had to make do with many connecting fllights to reach here,'' the diplomat said.
Tourism Principal Secretary (PS), Mr Joe Okudo led government and private stakeholders' officials in welcoming 150 tourists who disembarked from the plane that had made a detour to the spicy Indian Ocean island of Zanzibar before landing in Mombasa.
Arriving passengers were handed over the traditional Madafu drink and gift packs.
''With this latest arrival of Tui Fly from Brussels, we expect the number of charters to increase towards the end of the year and early next year as two more charters will be arriving into Mombasa besides this one we are receiving today,'' Okudo said.
The PS who was accompanied by Chief officer for Tourism at the County Government of Mombasa, Mr Innocent Mugabe and the Kenya Tourism Federation (KTF) chairman, Mr Mohamed Hersi added that since the launch of the Charter Incentive Programme (CIP) in 2016, Kenya has recorded a growth of tourism arrivals into the Coast region.
The Sh1.2 billion CIP package launched by Tourism and Wildlife Minister, Mr Najib Balala is aimed at subsidising cost of tourist acquisition bh charter companies i.e marketing spend they undertake on behalf of Kenya.
It is also supposed to stimulate demand for Kenya. CIP attracts no landing fees for a period of two and half years and comes with a passenger subsisdy of $ 30 per passengerseat filled by international passengers who terminate or disembark in Kenya over the same period.
Okudo said that as a result of joint marketing initiatives involving Destination Kenya, the partnering airline and the tour operators consortium, Kenya Tourism Board (KTB) continues to receive proposals for more charters to benefit from the initiative.
'' This weekly flight by Tui Fly Brussels is coming at a time when tourism numbers through MIA are picking up,'' he said.
The PS said that between the period January - August this year MIA recorded arrivals of 84,266 visitors up from 57,588 recorded in the same period last year marking a 46 per cent growth.
Tourist arrivals from Belgium last year posted a growth of 61 per cent with 10,170 visitors up from 6,320 arrivals in 2016. Belgium is ranked at number 10 in contribution of arrivals from the European market.
Mugabe said that tourism is one of the most important sectors of the Kenyan economy and in particular the Coast.
'' By re-introducing its flight services here, Tui Fly Brussels will enable more tourists to come and discover magical Kenya and what Mombasa County and the entire Coast has to offer in terms of unrivalled tourism attractions,'' Mugabe said
Pollmans Tours and Safaris Limited who are the local partners for the flight through Managing Director, Mr Khalid Shapi said that they were extremely excited to have the flights back to Kenya.
'' This is the start of greater things to come for our destination as more charters eye a return here,''Shapi said.
On his part, Hersi said that it served as a great honour for the destination to have Tui Fly Brussels deploy a brand-new Dreamliner aircraft on the Mombasa route.
'' This is clear manifestation of the seriousness in which the airline takes our destination,'' Hersi who is also Operations Director at the Pollmans Tours and Safaris said.