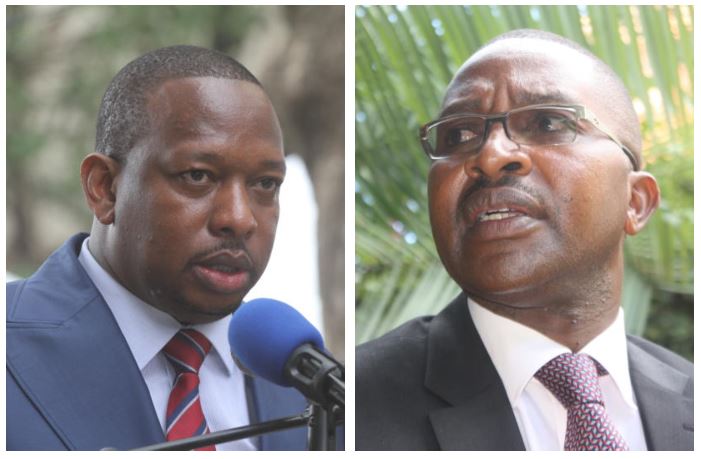 Financial Standard
The governors of Nairobi and Murang'a counties in a war of words over the ownership and use of the Ndakaini Dam.
The governors of Nairobi and Murang'a counties were last week engaged in a war of words over the ownership and use of the Ndakaini Dam. Murang'a County Governor Mwangi wa Iria last month said the county would cut off the water supply in the reservoirs going to Nairobi City unless the later remits 25 per cent of the revenue from selling the water. "Water is our oil," Mr Wa Iria is reported to have told a community gathering mid-September. "We can't be giving water to other counties for free when they sell it to residents," he said, adding that the majority of residents in the county do not have access to clean drinking water. Last week, Nairobi Governor Mike Sonko responded sharply claiming his Murang'a counterpart was playing politics with the lives of Nairobians by demanding a slice of the revenue from the sale and distribution of water to city residents.
SEE ALSO: List of areas in Nairobi set experience water shortage
"Ndakaini Dam was bought by the county government of Nairobi," said Sonko during the opening of the Nairobi ASK Show recently. "We have the title deed and the residents who were living in Ndakaini dam were compensated." The Nairobi county boss is correct in this claim. Ndakaini Dam (formerly referred to as Thika Dam) was constructed by Sh2 billion grant from the World Bank through the Third Nairobi Water Supply project undertaken between 1989 and 1998. "The project's main objectives were to augment and secure the water supply to Nairobi through the expansion of source works to meet demand up to year 2003/2005," explains the World Bank in one of the project appraisal documents. This was to be achieved through the construction of a 63-metre-high dam on Thika River with an impounding capacity of 70 million cubic metres, access roads, raw water intakes and transmission tunnels. The then Nairobi City Commission, a predecessor of the Nairobi City County was made custodian of the project until an autonomous regional authority would later be formed to own and operate the facility.