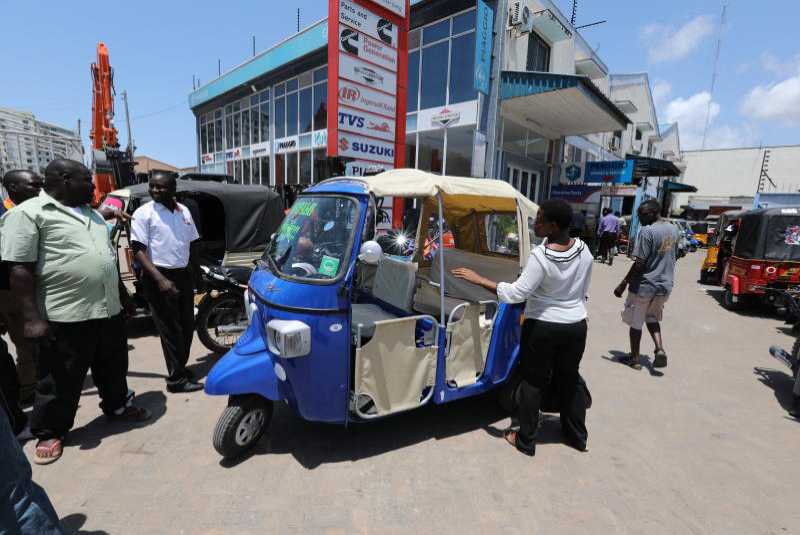 Business News
Increased charges are a reaction to the recently introduced 16 per cent value added tax on fuel.
Residents who use tuk tuks will have to dig deeper into their pockets after operators hiked fares. Officials of the Mombasa County Tuk Tuk Operators Sacco (Mocotuo) yesterday said they had refrained from raising fares in the past despite mounting operational costs. "We are now forced to announce an increment in fares, which will be chargeable for every single trip in and around Mombasa town and its immediate environs," Mocotuo Chairman Benson Njoroge said. There are an estimated 14,000 tuk tuks on Mombasa roads. The fare increase is a reaction to the recently introduced 16 per cent value added tax on fuel.
SEE ALSO: Residents living near forest accuse rangers of brutality
In the new fares, customers from Ganjoni to General Post Office (Posta) stage will now pay Sh100, up from Sh50. Other routes include Ganjoni to Likoni ferry (island side) Sh100, Ganjoni to Majengo, Coast Bus to Jela Baridi Sh100, Mwembe Tayari to Makupa Sh100, Liwatoni to Docks Sh100, Posta to Mama Ngina Gardens Sh100.
Three-wheel taxis
Fare from Posta to Labour will be Sh150, Posta to Tudor Sh150, Posta to Tudor Norah Sh200, Posta to Shimanzi Sh150. Mombasa town to Mombasa west train terminal station (SGR) Sh200, Mombasa town to Miritini Sh200, Mombasa town to Bamburi Sh700 and Mombasa town to Bombolulu Sh500. Those using the three-wheel taxis to Mtwapa from Mombasa town will pay Sh1,500, Mombasa town to Kilifi Sh2,000 and Mombasa town to Kwale Sh2,500.
SEE ALSO: Virus, what virus? Meet the big Covid-19 slackers
"We are not exploiting customers in any way but just adding what we consider a fair price," said Mr Njoroge, who was accompanied by his deputy, Philip Matendechere. He added that the sacco would reach out to other tuk tuk lobby groups and work together to restore sanity in the transport sub-sector. Njoroge said the organisation was working closely with the county government and the National Police Service to increase the security of passengers and tuk tuk drivers in the wake of several incidents of indiscipline and lawlessness.
Noble profession
"Like any other noble profession, we are striving to instil discipline and ensure that our tuk tuk drivers abide by the laws, particularly those governing traffic," he said.
SEE ALSO: Kisumu residents protest over delayed Sh100m road project
The official said his team would reach out to the organisers of this year's Skal Congress, to be held at the Pride Inn Paradise Beach Resort in October, with a view to be allowed to provide short shuttle services to delegates. "This is an important event in the calendar of the hospitality business and as key providers of transport, we feel we should not be overlooked," Njoroge said.