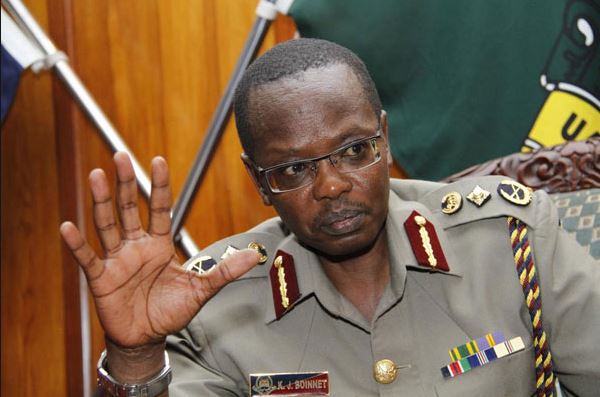 Inspector General of Police Joseph Boinnet has warned that the independent petroleum dealers currently barricading the Industrial area depot in Nairobi risk being arrested. Boinnet gave the dealers – who are protesting over the recent 16 percent fuel tax – until 5pm Wednesday to leave the area or risk having their fuel trucks impounded and anyone found barricading the place arrested. The protest has led to a fuel crisis in the city with many petrol stations running out fuel and the few who still have stock, being overwhelmed by queues of fuel hunters. The protesters however ignored the warning.
SEE ALSO: Philippines suffers first recession in 29 years
A contingent of General Service Unit (GSU) officers was deployed to the area and Boinnet, together with Petroleum PS Andrew Kamau were on hand to supervise the operation. Kamau had earlier also warned dealers and transporters who blocked the road leading to the Konza Depot that their actions are tantamount to economic sabotage. The Energy Regulatory Commission (ERC) later announced it had cancelled the licence of the Kenya Independent Petroleum Distributors Association (KIPEDA) for allegedly spearheading a boycott of petroleum products. The boycott has led to a crisis of lack of petroleum in petrol stations in Nairobi and major towns. ERC further accused KIPEDA of intimidating fellow petroleum transporters.
SEE ALSO: Business ideas to start today with zero cash
"The Commission has grounds to believe that the strike is spearheaded by KIPEDA HOLDINGS LIMITED, a body corporate licensed by the Commission to carry out Import, Export and Wholesale of Petroleum Products (Except LPG)." "The Commission therefore wishes to inform members of the public that the action by KIPEDA Holdings Limited amounts to economic sabotage and hereby cancels the licence of the said licensee pursuant to Section 85 of the Energy Act No. 12 of 2006," read part of a statement from ERC. "KIPEDA Holdings Limited is therefore no longer licenced to carry out import, export and wholesale of petroleum products." Trucks owned by distributors allied to KIPEDA on Thursday morning remained parked at the depots in solidarity with a strike called for by the Motorists' Association of Kenya. The Motorists' Association of Kenya called on motorists to again express their anger by boycotting fuel and participating in a strike of not going to work in the morning as much as possible.
SEE ALSO: Push to tame fuel prices fails to ignite hope for cosumers
Oil marketers fear stocking up and being ambushed with lower prices.