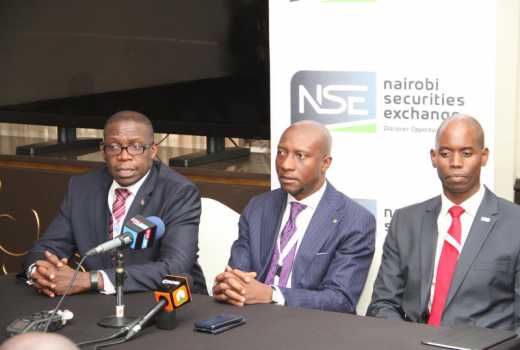 Capital markets such as the Nairobi Securities Exchange will have to innovate or face waning relevance in the wake of increased technological disruption.
This was the rallying call from influential speakers in the two-day Building African Financial Markets seminar that concluded in Nairobi yesterday.
The seminar, which was being held in Kenya for the first time after previous editions in South Africa, Nigeria and Morocco, saw 28 exchanges in Africa converge to discuss innovation as a lever for the growth and sustainable development of financial markets.
Capital Markets Authority (CMA) Chief Executive Paul Muthaura said the millions flowing in emerging sectors such as gambling is a manifestation that there are tech-savvy investors who are looking for innovative products in which to put their money.
He said new and innovative products at the NSE can help tilt such high liquidity away from the gambling craze to the capital market.
"Institutions or sectors that do not prioritise innovation are ultimately relegated to stunted growth, poor competitiveness and redundancy," said Mr Muthaura.
CMA proposed that the National Treasury should give tax incentives that will lure winners in betting and gaming to invest part of their proceeds at the NSE.
Muthaura said regulators in Africa must rethink their supervisory models to align regulatory requirements with market needs in a fast-changing environment.
NSE Chief Executive Geoffrey Odundo said African markets will have to build capacity and embrace new knowledge if they are to maintain a growth trajectory.
"Technology is really disrupting business and we have to find a way of using it. We appreciate the need to build capacity among fraternity players in the sector," he said.
LISTING DROUGHT
With NSE having endured a listing drought for more than two years, bourse chairman Samuel Kimani said regulators and other capital market players have to be proactive and alert to technological disruption if they are to retain relevance.
According to the president of the National Council of the Nigerian Stock Exchange Abimbola Ogunbanjo, emerging technology means that capital markets will have to do more in promoting financial literacy or risk product failure.