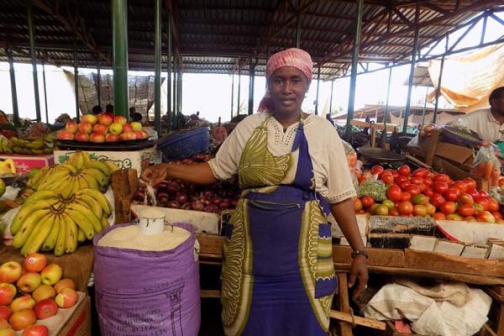 Policymakers are staring at the tough task of saving Kenyans from the cost of living after food prices hit a nine-month high.
The latest figures released by the Kenya National Bureau of Statistics (KNBS) put food inflation at 16.5 per cent, the highest since 2012.
Overall inflation for February also surged past the regulator's desired upper limit of 7.5 per cent to 9.04 per cent.
"This was mainly attributed to increases in prices of sukuma wiki, maize flour, milk, cabbages, spinach, potatoes and maize grain, among others. This was partly contributed by prevailing drought conditions. The year on year food inflation stood at 16.50 per cent in February 2017," said KNBS in a statement.
This means that for a four-member household with an average expenditure of Sh300 on a basic meal, it will have to add Sh1, 485 on its monthly budget or go for five days without food.
Read More
A kilogramme of sukuma wiki (kales) now retails at Sh54.10, Sh17.30 more than it did in February last year.
A two-kilogramme packet of maize flour currently retails at Sh126.80, which is Sh21.30 higher than in the same period last year.
While a kilogramme of cabbages is Sh26.70 costlier, a litre of kerosene will cost 67.9 per cent more than last year.
The only product whose price has fallen this year is a 13-kilogramme Liquid Petroleum Gas (LPG) cylinder, which retails 14.7 per cent lower compared to last year. This rise, the sharpest since May last year, confirms Central Bank of Kenya's (CBK's) fears that the general rise in food prices is the main problem facing policymakers.
Food and Non-Alcoholic Drinks' Index contributes 36.04 per cent of the basket of goods considered for inflation.
In January, CBK Governor Dr Patrick Njoroge warned that failure to deal with sky-rocketing prices of foods such as tomatoes, sugar, oranges, cabbages and sukuma wiki would push inflation beyond tolerable levels.
"Clearly, we need to look a little more at food inflation, which we know is driven by other factors altogether," said Dr Njoroge. He explained that there was concern about dry weather conditions in the country and that the price of vegetables such as tomatoes, cabbages and sukuma wiki will probably not come down in the next few months.
"On the contrary, it might continuously push inflation towards the higher end of the band," said the governor.
Kenya's inflation band is five per cent, plus or minus two per cent.
CBK's decision-making organ, the Monetary Policy Committee (MP), which Dr Njoroge heads, now faces an additional task as it sits next to make a decision on the benchmark lending rate, even as they also try to encourage credit uptake by the private sector.