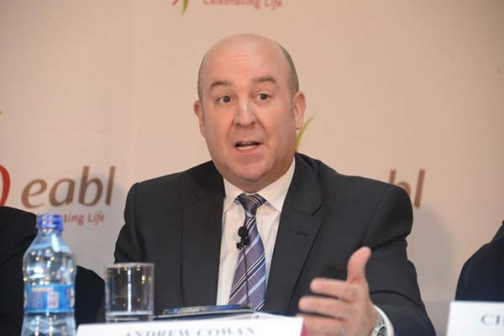 East African Breweries Ltd has reported a 28 per cent drop in half year net profits as it took a beating from a rise in excise tax and adjusted its earnings from last year's sale of its glass manufacturing business.
The brewer yesterday said its net profit was Sh5.6 billion in the six months to December 2016, down from the Sh7.7 billion reported in a similar period last year. However, without the one-off Sh2.2 billion sale of Central Glass Industries (CGI), the brewer said its net profit from operating activities rose marginally by 2 per cent, to Sh5.6 billion.
"This financial year has been difficult with a tough external business environment. Excise tax has affected our customers' ability to afford our products," EABL Chairman Charles Muchene said at a media briefing yesterday. All its beer brands registered a decline except for emerging spirits.
EABL said revenues from the sale of its premium beer brands that include Guinness and Tusker malt declined by 13 per cent while the Ready to Drink (RTD)'s dipped 11 per cent. RTD include the Smirnoff Ice and Snapp that are targeted at female customers. Its mainstream beer, that include its flagship beer Tusker and Bell, recorded a 7 per cent decline.
It is only the emerging segments and down market alcohol such as Senator Keg and Balozi beer that registered a positive growth, growing by 10 per cent in the half year period. In overall, the decline saw its net sales decline by 6 per cent to Sh35.2billion.
Read More
The firm, which kept its interim dividend payout steady at Sh2 per share said it will continue disposing of 'lazy assets' and invest the money into its core business to be able to support its growth. Besides last year's sale of the glass bottle manufacturing subsidiary whose revenues helped shore up its profits, the firm has also been selling land it says has been lying idle.
It has so far sold at least 15 acres of land out of about 60 acres it owns at its Ruaraka headquarters, a deal which earned it about Sh1.8 billion. The firm has also put up for sale a six-acre piece of land in Mombasa's Shimanzi Industrial Area, for a base price of Sh700 million.
EABL's Group Managing Director Andrew Cowan said part of the Sh1.8 billion investment it is doing has come from the sale of this land. The firm plans to invest another Sh3.5 billion in the second quarter.
But it is the increase in taxes that remains the biggest nightmare for the brewer. Cowan said the Government's decision to impose the excise tax had not resulted in an equivalent rise in tax revenues. He argued that despite a sharp rise of about 43 per cent, the Government was only collecting about 10 per cent more in taxes, meaning that it had mostly served to reduce consumption.
"There has been four major excise duty increases affecting bottled beer volumes in the last five years, with the most aggressive one taking effect in December 2015 – a 43 per cent rise in duty. This was the highest excise duty increase in Africa and considering the prevailing inflationary pressure in the economy, we still experienced a 5 per cent increase in volume," Cowan said.
He said the firm is counting on new brands in the market and innovation to lift its declining revenues. "We continue to invest behind our capacity, people, brands and innovation to ensure we are tapping into existing, emerging and changing consumer needs. These will be our key drivers in ensuring our future success in the region."