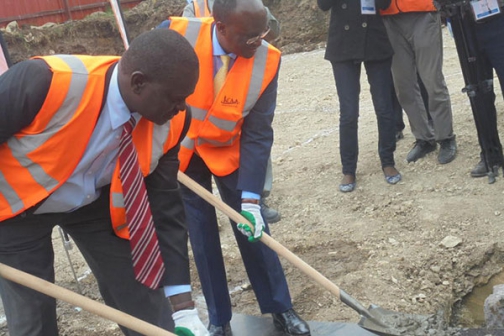 KENYA:
Nairobi's Wilson Airport will soon have a modern air traffic control tower to replace the 50-year-old squat structure currently serving the airfield. The current facility does not provide adequate view of the manoeuvring area from the tower cabin, Cabinet Secretary for Transport, Infrastructure, Housing and Urban Development James Macharia noted. Mr Macharia yesterday performed the ground breaking ceremony for the tower estimated to cost Sh163 million. He said the structure would take 52 weeks to complete if work proceeds without a hitch. A Chinese Company, Weihai International Economic and Technical Cooperation (WIETC), won the tender to do the work. "The new air traffic control tower complex is expected to bring on board additional office space that will help ease the current congestion and enhance the Kenya Civil Aviation Authority's service delivery," said Macharia who was accompanied by his Principal Secretary Mr Irungu Nyakera, Kenya Civil Aviation Authority (KCAA) Chairman Samuel Poghisio and Director General Captain (Rtd) Gilbert Kibe.
SEE ALSO: No quarantine, distancing on flights in new guidelines
He emphasised the importance of aviation in countries whose economies were expanding. "The sector is vital and in Kenya has had direct economic impact to the tune of Sh58.9 billion per year, an equivalent of 1.1 per cent of the Gross Domestic Product (GDP)," he said. Macharia noted that the sector's indirect impact on the economy through tourism was in excess of Sh140.68 billion annually. "The industry is expected to grow by an average of five per cent per annum in the next 14 years," he said, adding that aviation had been identified as one of the growth drivers of Vision 2030. He warned those who have encroached on the airport's land that they would have only themselves to blame if forced to move in spite of their investments because security came first in the aviation industry. "The Government would not think of constructing this modern air control tower if it was not interested in the growth of Wilson Airport and its security," he said. The airport currently handles an average of 182,500 landings, take offs and training flights annually, hence the need for expansion. Macharia urged stakeholders and investors to continue supporting the growth of the aviation sector in preparation for having direct flights terminating at the Jomo Kenyatta International Airport (JKIA).