Federation of Kenya Employers warns political unrest will scare away investors
The heightened political temperatures could curtail jobs creation, employers have warned. The Federation of Kenya Employers warns that already, Kenya's competitiveness in doing business has dropped thereby affecting the creation of jobs.
The employers' lobby noted with concern that Kenya's competitiveness declined in ranking to 99 in 2015 from 90 in 2014.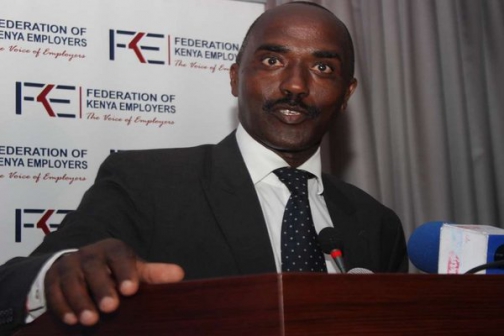 Outgoing FKE Chairman Linus Gitahi said the situation, if not checked, would limit the creation of jobs and could scare away potential investors.
"Every year 1.2 million youths enter the labour market. More than 50 per cent remain unemployed and over 80 per cent of those who secure employment find work in the informal sector," he said.
In 2015, Kenya's economy generated 841,600 jobs of which 107,800 were wage employment and 20,200 were self-employment or unpaid family employment in the modern sector while 713,600 were in the informal sector.
Gitahi pointed out that only a paltry 1 per cent of the 840,000 jobs created in 2015 were in formal wage employment. The total employment in the country stands at 15,160,800 jobs of which 12,559,600 are in informal sector. This means that 82.8 per cent of employment in the country is in the informal sector.
"A rapidly growing young population unless properly managed, presents a major challenge even within a peaceful environment. Persistent unemployment and lack of opportunities can drive the youth into undesirable ventures such as criminal activities, lawlessness and violent actions," Gitahi said.
He pointed out that most feeder roads in Nairobi are in need of repairs and maintenance to ensure access by both employers and workers.
Take a quick survey and help us improve our website!
Take a survey
"Every time we buy the most basic items such as paper clips, the reality is that we are exporting jobs. We now must look for means to bring down the cost of production," he explained.
Nairobi Governor Evans Kidero promised to improve infrastructure. "Employers have discussed the Kenyan business competitiveness, the economy, how to generate jobs, and the coming elections. Our common goal should be to create a country which will better protect business investments and better the lives of its citizens," Kidero said.
Mark Obuya, who is the CEO of Corporate Insurance Company Limited, was elected the National President of the FKE, taking over from Gitahi whose term has ended. The CEO of Kenya Bankers Association Habil Olaka was elected as the First National Vice President while Mrs Gilda Odera of Skyweb Technologies was elected the Second National Vice President.