East Africa's largest insurer Jubilee Holdings has closed its 2015 books with a marginal growth in net profit which stood at Sh3.1 billion. In what proved to be a turbulent year for insurers, Jubilee's net profit for the 12-month period ended December 31, 2015 grew by just Sh17.4 million when compared to the profit for the previous financial year. The company's profit before tax also grew marginally by five per cent to Sh4.1 billion.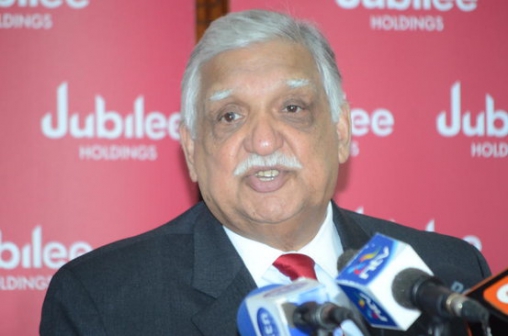 The insurer's chairman, Mr Nizar Juma, acknowledged that last year offered a volatile and challenging environment for business. Jubilee, together with CIC Insurance, another composite underwriter, were the only two Nairobi Securities Exchange (NSE)-listed insurers that did not issue a profit warning. Kenya Re, a listed reinsurer, also defied the headwinds of 2015.
Juma said that Jubilee escaped the headwinds at NSE due to diversified portfolio which meant that erosion of their portfolios at the bourse did not affect them significantly. "Fortunately, Jubilee has over the years reduced dependency on the stock markets and diversified its investments in not only government bonds but also in the energy and infrastructure sectors," said Juma.
The firm has invested in Tsavo Power and the Bujagali hydropower project. Also, it has stakes in infrastructure projects such as internet service provider SEACOM whose returns are dollar-denominated. This shields it from a weak shilling. "This has been a good counter balance for Jubilee. Our insurance companies in the region have performed well despite a very volatile and challenging year," he added.
During the period, Jubilee's gross written premiums reached Sh30.1 billion from Sh29.5 billion the previous year. This was heavily supported by a 32 per cent growth in medical insurance business which rose to Sh10 billion. However, its life insurance business segment dropped by 17 per cent to Sh9.6 billion.
Read More
Last year, the insurer paid Sh342 million to Kenya Defence Forces' families whose soldiers were killed by Al-Shabaab militia in Somalia. The firm's CEO Patrick Tumbo decried the increasing cases of false claims. He said that last year, the company took 15 people to court over fictitious claims.
The company managed to grow its asset base by 11 per cent to Sh82.4 billion, giving it an edge over other industry players. The directors have recommended a final dividend of Sh7.50 per share to add to the interim dividend of Sh1 per share that was paid in July.
Juma disclosed that the company was eyeing more markets in order to deepen its regional presence. Last year, the company set up the Jubilee Medical Scheme in DRC Congo and also formed Jubilee Insurance company in the same region which is awaiting legalisation.
He added that soon the company will be acquiring two or three more companies. However, he declined to disclose which companies were on its radar. During the same period, CIC managed a 4.4 per cent rise in net profit to Sh1.136 billion.
Other listed players such as Liberty Holdings, Pan Africa Holdings, Britam and UAP Holdings saw their profits dip by more than 25 per cent during the review period. Pan Africa Holdings announced a 97 per cent drop in net profit to Sh27.3 million while Liberty Holdings' pre-tax profit dropped to Sh953.7 million from Sh1.34 billion in 2014.
UAP's net profit dropped by 46 per cent to Sh896.6 million against Sh1.67 billion in 2014.