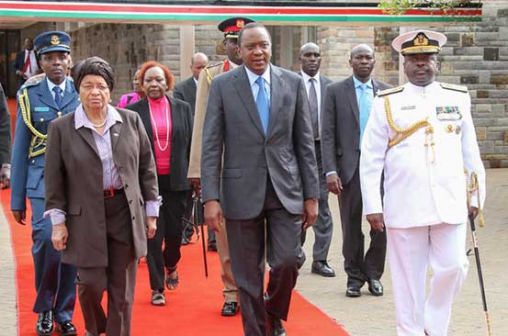 NAIROBI: A major deal struck at the ongoing World Trade Organisation meeting in Nairobi could see prices of mobile phones and other electronic devices fall by a third starting next month.
China signed up to the deal late Wednesday evening, agreeing to cut taxes on an estimated $1.3 trillion worth of IT equipment, mostly manufactured by its factories.
Fifty-four of the biggest countries that manufacture and trade in IT equipment including US and China, entered an agreement to eliminate tariffs starting January 1, 2016. While Kenya is yet to sign up to the Information Technology Agreement (ITA), Foreign Affairs Secretary Amina Mohammed said the State was working on 'how and when to join'.
"Kenya is looking very favourably at the ITA, especially because it is a hotbed of innovations and entrepreneurship. It only makes sense for us to be in something like this," Ms Mohammed said yesterday in a status update on the WTO conference.
A decision by Kenya to join the ITA, which has previously been frustrated by China, would mean that all technological equipment will be zero-rated. China levies up to 35 per cent import taxes on video cameras, for instance, this is expected to be removed at the start of the new year.
Read More
Eliminating tariffs on components used in assembly of IT equipment would translate to lower retail prices whose spillover effects would be felt beyond the main markets.
"All WTO members can begin to enjoy the benefits that accrue from it," Mohammed told reporters. The CS added that the talks had reached a 'critical stage' and that there is not much time left.
"There is some heavy lifting to be done today if we are to find the common compromises," Mohammed added.
Yesterday delegates also held intense negotiations on the divisive issues of agricultural subsidies that have pitted the poor countries against their developed counterparts.
Tensions escalated on Wednesday after a planned press conference at the Jomo Kenyatta International Airport which was to be addressed by US and Chinese trade ministers flopped. The meeting between US Trade Representative Michael Froman and Chinese Commerce Minister Gao Hucheng was expected to end in the announcement of the elusive deal.
Instead, Ambassador Froman met journalists alone to announce that there was no deal yet on the IT products. It however appears that a last-minute deal was struck hours after Hucheng, who was flying back home, had left. His deputy represented the Chinese position in a joint statement issued after 7pm on Wednesday.
GREAT NEWS
Thursday, US said in a statement from the Nairobi mission that it had agreed to the IT deal. "Expanding the ITA to cover a wide array of additional products promises to be a major boost to US technology exports and the jobs that support them," said Froman.
He added: "It's great news for the American workers and businesses that design, manufacture, and export state-of-the-art technology and information products, ranging from high-tech healthcare devices to advanced semiconductors to software media.
"It also importantly demonstrates that the WTO can deliver results with pragmatic approaches and help build momentum for our ongoing talks in Nairobi." Expansion of the IT agreement will eliminate hundreds of tariffs on billions of dollars in additional American technology exports all over the world, US said.
"Following months of intensive consultations and negotiations, participants have now closed the deal. I want to congratulate the participating governments, and all ministers here today on this success," WTO Director-General Roberto Azevêdo said.
Trade in IT products covered by the agreement is valued at approximately $1.3 annually, which is much bigger that the global trade in automotive products. WTO estimates that the deal set the stage for the biggest tariff-cutting agreement over the last 18 years.
The original IT agreement was entered in 1996 but since then most of the exports in products covered by that deal are obsolete.