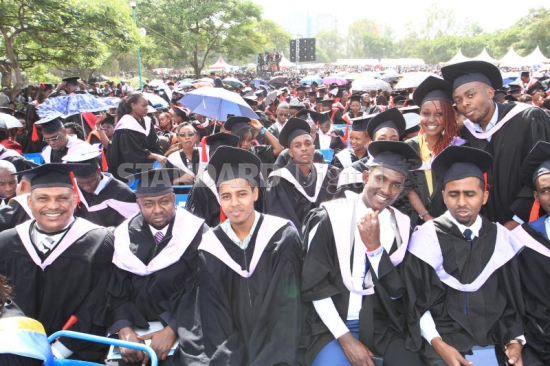 The Government's plan to raise spending by 25 per cent to Sh2.17 trillion for the 2015/16 financial year demonstrates, once again, its commitment to building world-class energy, infrastructure and telecommunications facilities that will accelerate economic development. On paper, this is great. But a closer look reveals that key areas the Government is targeting for increased spending do not yield much employment, in themselves. The tragedy is that the previous administration followed the same script even as schools, colleges and universities continued to churn out ever increasing numbers of youth whom the labour market could not absorb. The result is that although the country has registered reasonably high growth rates over the past decade, it has created few well- paying jobs for its youth. This means that the country has more than 1.5 million young people — aged between 15 and 24 years — who are unemployed. According to a study released last week by SAP SE, Kenya needs to create more than 3.9 million jobs for young people by 2020.
SEE ALSO: Firms cut hiring as virus eats revenue
At first sight, the challenge facing the country looks daunting. But a second look at the numbers, the reality on the ground and given Kenyans' entrepreneurial spirit and go-getter attitude suggests the job may be easier than it looks. All that may be required is a paradigm shift among policy makers in Government and civic leaders at various levels. For starters, the current fixation with wooing Foreign Direct Investments (FDI) should be given a break as there is ample evidence to suggest that, though welcome, these FDIs create relatively few jobs. Instead, the investors employ the latest technology, which maximises profits but is an enemy of labour. But even worse, there are some FDIs attracted to Kenya because they can get away with paying workers low wages. Perhaps, the policymakers could spend more time crafting policies that would grow entrepreneurship. After all, the same SAP SE study reveals that although the number of entrepreneurs is growing at 20 per cent annually and represents only five per cent of Kenyan firms, they create more than 70 per cent of the total number of jobs created. Services hub Second, there should be a laser focus on ICT, financial and logistics. And in that order. An area that requires greater clarity, for example, is one that was much-hyped when the country embarked on the laying of fibre-optic cables in the late 2000s.
SEE ALSO: Jobs data shows Kibaki was corporate and Uhuru is a hustler's president
Promises were made then that the country would pull out all stops to get a slice of the Business Process Outsourcing worth billions of dollars and dominated by India and the Philippines employing millions of young people. An audit of those plans might well reveal some government employees' complicity in the failure to lower Internet charges as promised despite the public having a major shareholding in some of the firms that laid the fibre-optic cables. The questionable manner in which the government handed over the management of these assets to a foreign profit-making company also needs to be looked into afresh. Some of the companies that defied the odds and set up their businesses, anyway, are said to be struggling with the high internet and power charges despite the latter being unreliable, at times. Yet, there is a near unanimity that the country has the potential to become a major exporter of services not just regionally but globally. In the words of Gituro Wainaina, the acting director general of Vision 2030, the services sector makes a direct and significant contribution to the GDP and job creation and provides crucial inputs to the rest of the economy. And according to Dr Dirk Willems, director of Supporting Economic Transformation (SET), a programme of the Overseas Development Institute (ODI), although Kenya is consolidating itself as a regional services hub in finance, transport and ICT, it still needs to take more strategic actions to become a global exporter and ensure the benefits are widely shared.
SEE ALSO: Will getting used to new roles spawn unemployment?
The good news is that the policy-makers will not be starting from scratch as it seeks to grow the sector more exponentially to meet the need to create well-paying jobs for minimal government encouragement or financial assistance, the country grew its export of services from Sh177 billion in 2005 to Sh456 billion in 2012. —
[email protected]