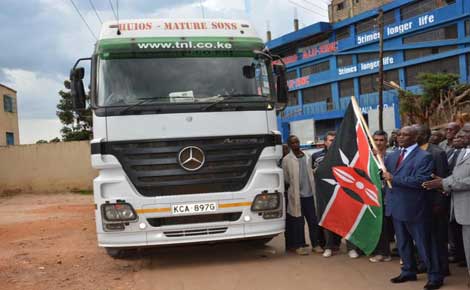 Consignment of avocado oil to Mexico
Kisii County is on course to be a major avocado oil producer in the country. Kisii Governor James Ongwae early in the week flagged off (pictured) 30 tonnes of avocado oil destined for Mexico.
The successive processing of the product by Australian firm, Old Land Trade Company, could set off an industrial revolution and spur improved economic growth in the region.
Mr Ongwae said the avocado produced in the county annually is sufficient to run the processing plant at 80 metric tonnes a day. "The success of the venture is part of efforts by the county government to add value to produce and improve farmers' earnings," noted Ongwae.
Farmers in the region have found it difficult to sell the fruit due to a saturated market, with majority selling at a throwaway price as some of them rot away in the market.
The development also seeks to eliminate middle men who have been exploiting avocado farmers as the new method will see farmers paid based on kilogrammes.
"The middlemen have been paying farmers peanuts, but this time round farmers will be paid based on the number of kilogrammes they produce and this will significantly reduce the region's poverty index from 51 to 20 per cent," he promised. Ongwae further promised the county government will negotiate with investors to put up industries particularly in the area of value addition to local produce.
"We will continue to give priority to investment in programmes that will transform the county into a middle-income economy," the Governor said and promised a favourable environment for local and foreign investors.
Hass Variety
The firm, based in Kisii town started operations about two months ago and is part of the larger process to attract local and foreign investors to set up factories in the region. Investor Majid Akhaouni said the factory will also produce pharmaceutical and edible oil after they install a drier.
Currently, the production capacity of the factory stands at 15-20 tonnes of oil per day, but this is set to increase with the installation of the drier. Besides, plans are underway to improve production of the crop per unit area with the government, through the distribution of the subsidised and enhanced Hass Variety of avocado seedlings. The programme seeks to assist producer groups improve their production capacity and once this is achieved, the full factory capacity of 350 metric tonnes per day will be achieved.
In 2015, the government will supply one million free avocado seedlings to farmers to boost avocado production and earn farmers better income.