By KENAN MIRUKA
When retired teacher Oscar Obara set out from his Tabaka home to visit a secondary school in Kisii town last week, the last thing his family expected was to hear that he had been killed in a freak accident.
But that is exactly what happened, and the family would have come to terms with the tragedy had somebody taken responsibility for what happened. Instead, a police officer who set the events in motion that led to the accident is being protected by his peers in the force. Kisii police officers won't even record statements from the family.
Piecing together the events of that day, the Obara family has established that the man boarded a motorbike to take him to Nyanchwa SDA secondary school as his wife and daughter waited for him outside a supermarket in Kisii town.
Obara had gone to collect certificates for his daughter from a local school last Wednesday.
Read More
It so happened that on that day police had organised a crackdown on motorbikes and cyclists in the town.
It is alleged that one of the officers aimed his baton at the motorcycle rider carrying Obara when he failed to stop. But the baton missed the rider and instead hit Obara on the head.
"He (Obara) fell down but the rider managed to take off at high speed towards Nyanchwa, leaving the Obara sprawled on the road," recalls his wife Mercy.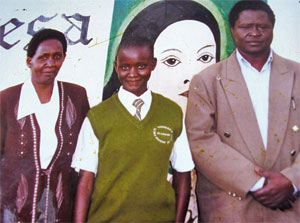 A family portrait of the late Oscar Obara (right) with wife Mercy (left) and daughter. [PHOTO: COURTeSY]

The incident occurred a half a kilometre from Kisii town near the entrance to Kisii Primary School.

Oxygen mask

Mercy says her husband sustained serious injuries and was admitted at the Kisii district hospital where he was put under oxygen.

"After waiting for some time, somebody called to ask where I was and when he arrived (at the spot where Mercy was waiting for Obara) and told me that my husband had been involved in a serious accident and was in a critical condition. I went to the hospital to find my husband in an oxygen mask," she explains.

Mercy says she was told by good Samaritans who had witnessed the incident that a policeman's actions led to Obara's fall and eventual death.

She claims the police took Obara to the hospital but abandoned him there. A scan at a private hospital in Kisii revealed the retired teacher had a fractured skull.

The doctors confirmed that and recommended specialised treatment at Kenyatta National Hospital. The family was asked to raise Sh224,000 for an airlift but could not afford it.

"We managed to secure a private ambulance at Sh14,000 to take Obara to Moi Teaching and Referral Hospital in Eldoret," explains Omboi Moturi, a relative of the deceased.

But Obara did not make it. "Doctors who attended to him said he had sustained a serious injury, with a piece of bone embedded in the brain," Muturi explains. "He succumbed to his injury at Nandi Hills on our way to Eldoret."

Recording statements

The family reported the matter at the Kisii Police station but the officers there were reluctant to record their statements.

"We reported the matter with the Kisii Officer Commanding Police Division (OCPD) who referred us to the Officer Commanding Station and who in turn referred us to the district Traffic Commander.

"Only the Traffic Commander listened to us and said he would investigate but the culprits are yet to be apprehended," Moturi says.

Kisii OCPD Peter Njenga said he was aware of the incident and promised investigations would be conducted.

Njenga, however, said the statement recorded at the Kisii Police station Occurrence Book indicated the deceased had sustained injuries after falling from a speeding motorcycle.

"At this moment, I would not point an accusing finger at anyone until we complete investigations and if true, take necessary action," Njenga reassured.

About 1,500 operators in Kisii have been banned from operating within the town's Central Business District and assigned temporary points to operate from as the municipal council works on a permanent location.

Obara's relatives are calling on Police Commissioner Mathew Iteere and human rights bodies to intervene and ensure that justice is done.

They are demanding the arrest and prosecution of the police officer who hit Obara last Wednesday and accused police officers at the Kisii police station for protecting him.

Mercy said three witnesses are ready to record statements.