By Osinde Obare and Lucas Ng'asike
Turkana residents, leaders and civil society activists have opposed construction of a dam on River Omo.
They held four simultaneous demonstrations to oppose the dam constructed to produce electricity in Ethiopia.
They staged the protests yesterday in Lodwar town, Kalokol, Lowarengak and Todonyang centres along Lake Turkana.
Read More
They also accused the Kenya Government of allowing the project to take off despite threatening fishing at the lake, their source of livelihood.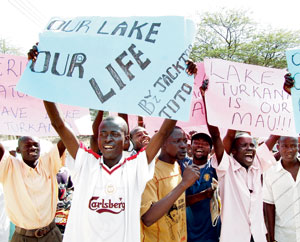 Turkana residents demonstrate Wednesday. [PHOTO: LUCAS NG'ASIKE/STANDARD]

Fatigued residents braved the scorching sun to demonstrate and condemned the Kenya and Ethiopia governments over a power deal they said put their survival in jeopardy.

River Omo is the main tributary of Lake Turkana and supplies more than 80 per cent of its waters. The other rivers, Turkwel and Kerio, are seasonal and can barely sustain the lake.

At Lowarengak, the placard-waving residents who are mainly fishermen lamented the water level at the lake had begun receding and fishing activities were seriously hampered.

"We don't want their electricity. Water has receded alarmingly. They want to sacrifice us for other people's benefit. The project has affected fishing, which is our source of income," said Councillor Osman Elman.

They called for global intervention to force the Ethiopian Government to reverse the decision to allow smooth flow of water into the lake.

Ruin lives

"The project will ruin our lives and cause a conflict with our neighbours. The water level has receded and fish are dying in big numbers," said Ms Agnes Etabo, a mother of three.