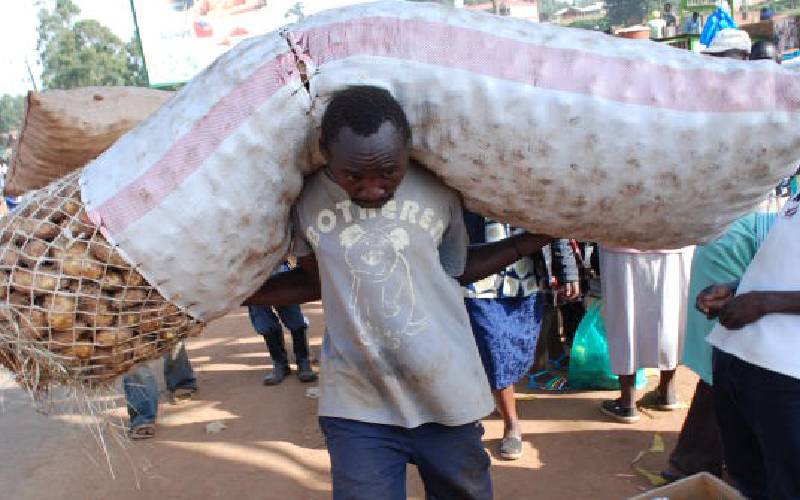 Potato farmers are still being exploited by brokers who have defied new packaging laws introduced last month.
According to the new law, all potato must be packaged in 50-kilogramme bags before leaving farms for the market.
But the brokers are still purchasing the commodity in extended bags only to repackage them in 50 kilogramme bags before reaching the market.
Investigations by The Standard revealed that this is mostly happening at night at Roriondo along Ol Kalou-Gilgil road and a spot a few kilometers before reaching Fly Over along the Njabini- Magumu road.
The brokers have been repackaging the potatoes to avoid being arrested by police on the Nairobi- Nakuru highway.
Read More
Nyandarua Potato Growers Association chairman Wilfred Kimaru said that despite the much hyped launch of the regulations by governor Francis Kimemia a month ago, their impact is not being felt in potato farms across the county.
"We are seeing lorries transporting the produce in extended bags in broad day light. We have not seen enforcement officers on the ground to regulate the sale and marketing of the produce," he said.
According to Mr Kimaru, farmers were losing millions of shillings to the unscrupulous potato brokers.
"Let the Government take action against these brokers. Farmers should also not let the brokers dictate to them what packaging to use and should insist on selling the produce in 50-kilogramme bags," he said.
However, the county director of agriculture, Joseph Wathinja, insisted that the potato law was being strictly enforced.
He said that two people were last week arrested at Kwa Haraka area in Kinangop while transporting the produce in extended bags.
"This is a true indication that we are enforcing the law. We will not relent until all those who break it are brought to book," he said.
The law also requires every potato farmer to register with the county administration to streamline marketing operations. Small growers are also required to register with a growers association.
All marketing agents, dealers, collection and warehouse owners must also register with respective county governments.
The law recommended that the Agriculture ministry cabinet secretary in consultation with Agriculture and Food Authority shall from time to time prescribe the maximum weight for each single unit through a gazette notice.