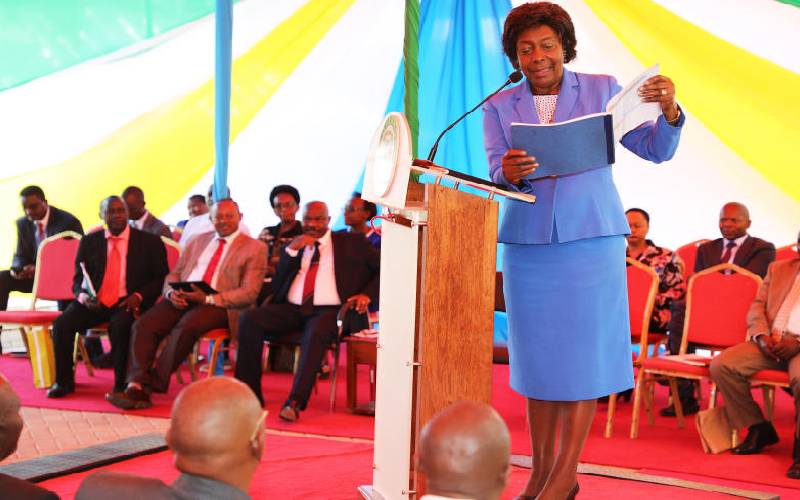 The Kitui High Court will today start hearing a matter in which Governor Charity Ngilu has sued County Assembly Speaker George Ndotto for delaying the release of devolved funds.
In the suit, Mrs Ngilu is seeking orders to compel Mr Ndotto to release an official letter that would allow the National Treasury to disburse funds to the devolved unit following approval of the Appropriation Bill for the 2019/20 financial year.
The governor also wants the Speaker to be declared unfit to hold public office as well as held in contempt of court.
"The County Assembly Speaker's failure to notify the Controller of Budget on the budget standing made it difficult for Governor Charity Ngilu's administration to access funds from the National Treasury to pay staff salaries for the month of June," read the plaint before Lady Justice Lillian Mutende.
Ngilu has been embroiled in a political tussle with the county assembly for the past few months over budgetary allocations and corruption claims.
This, sources said, was behind the ward reps' rejection of the governor's Sh11.6 billion supplementary budget for the 2018/19 fiscal year on June 27.
The following day, the assembly further refused to allocate funds in the 2019/20 financial estimates for the Kitui County Textile Centre and a ballast crusher procured by the county government – both said to be Ngilu's pet projects.
In her suit, the governor argues that on April 30, the Finance Executive presented a budget estimate proposal for the 2019/2020 financial year to the county assembly for approval.
The proposal was only processed on June 28, which was the last day for submission. This caused a delay in the approval of the Appropriation Bill before July 1 – the first day of the current financial year.
Members of the county assembly approved a vote authorising the withdrawal of funds from the County Revenue Fund pending preparation and assent of the Appropriation Bill.
According to Ngilu, the Speaker had seven days to communicate the assembly's decision to the Controller of Budget, who would have in turn release the necessary funds.
It is also claimed that while the assembly's resolution was forwarded to the Finance Executive through a letter from the Clerk of the Assembly on July 2, Ndotto later visited the offices of the Controller of Budget in Nairobi and disowned the communication.
Ngilu argues that because of the Speaker's failure to act promptly, the running of the county government has been affected. The first victims, she states, are county government employees who have not been paid their June salaries.
The governor also claims that there is an acute shortage of essential medicines, laboratory reagents and non-pharmaceuticals used in hospitals.