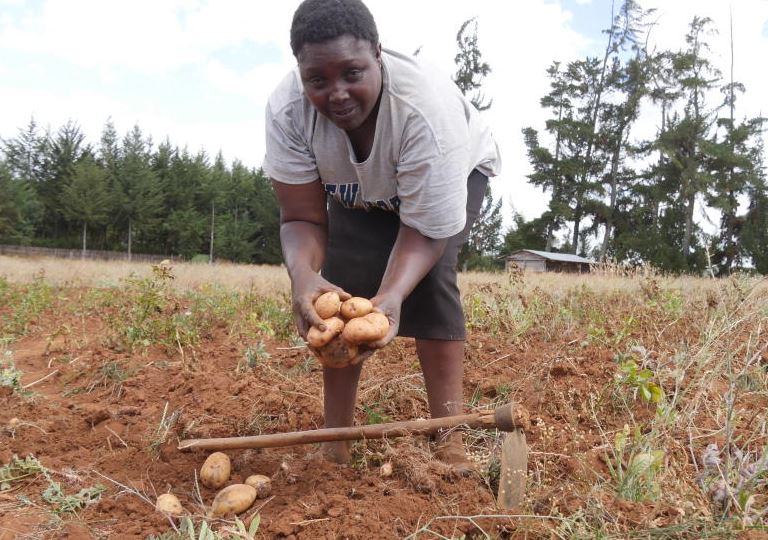 Potato farmers in Kuresoi sub-county are asking for support from the State as a result of aphids infesting their crops leading to losses.
The bug that has become common in farms in the region, is feeding on the newly planted potato tubers as well as potatoes ready for harvest.
The attack from the bugs, which causes the whole plant to wither, has raised concerns of food insecurity in the county.
Read More
Potato farming is a major economic activity in Kuresoi and the entire Nakuru County.
David Juma a farmer from Sirikwa, is among those who planted the crop in early February. The entire crop has been infested by the bug.
Mr Juma said aphids have taken up the soils in his farm and efforts to spray them with chemicals purchased from local Agrovets have not proven successful.
"I opted to plant potatoes recently. But unfortunately, aphids have fed on the tubers making germination impossible," said Juma.
According to Juma, when aphids attack, they not only affect the quantity of potatoes that will be produced. They will also affect the quality.
Aphids feed on mature potatoes in such a way that they leave holes on the produce. Potatoes with such holes cannot be sold. They are of bad quality. They have to be sorted out and thrown away.
Great expectations
Juma was expecting to harvest 70 bags of potatoes on his 20-acre piece of land. He only managed 10 bags.
Poor quality of the produce has also affected prices. A 110 kilogram sack of potatoes is retailing for only Sh3,000. The normal price is Sh5,000.
"Price is a major challenge now because consumers want produce that is of good quality. But the bug has affected quality. No consumer will buy potatoes with holes on them," said Juma.
He is among farmers who sell their produce to Tanzania since there are good market prices there. But the bad quality of his crop has turned away Tanzanian consumers.
Joel Kilel, 85, another farmer from Mochorwe village in Kuresoi is also counting losses.
Potato farming has been Mr Kilel's main work, but frustrations ranging from erratic weather patterns and high cost of farm inputs are turning him away from the venture.
County Director for Agriculture Grace Kirui said officers have been sent to the area to handle the situation.