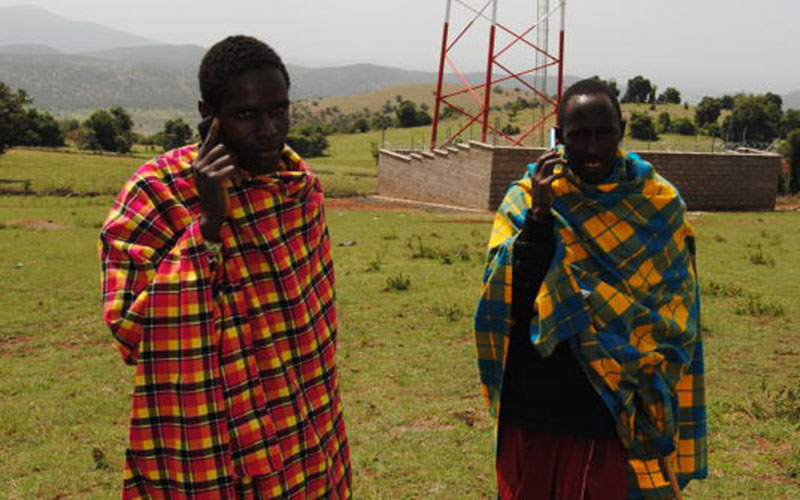 The Government has stepped up efforts to improve mobile network coverage in the remote parts of the country.
The Universal Service Fund (USF) said it had started rolling out plans to spend Sh1.2 billion allocated this financial year to improve network coverage in parts of eastern, northeastern and Rift Valley regions, where mobile network is not available. The areas also suffer from poor infrastructure, insecurity and under-developed.
"We get information from the Communications Authority (CA) on some gaps in the network coverage. These are areas that the main mobile telephony companies view as less attractive and unviable in terms of business," said USF council member Catherine Ngau at the weekend.
She spoke at Oloodo in the arid part of Narok West sub-county, where mobile network provider Safaricom recently installed a booster as part of the network improvement programme.
The fund, a kitty collected from telecommunication service providers, was developed in 2009 to provide a common pool of capital to fund connectivity in areas that do not have access to the critical infrastructure.
While internet penetration and ICT use have grown fast in Kenya, swathes of the country are still outside mobile and internet reach mainly because they are sparsely populated and would, therefore, not bring in commercially viable revenues.
Currently, players such as telcos contribute 0.5 per cent of their total revenue to the fund, with a proposal to increase it to one per cent.
According to CA figures, the fund stood at Sh7.1 billion last year.
Out of this, the regulator said, Sh4.6 billion had been allocated for voice and broadband projects.
Dr Ngau said a study commissioned in the 2015/16 fiscal year to determine the levels of access to ICT services in the country revealed that 5.6 per cent of the population or about 2.66 million people have no access to telecommunication services , hence the need to scale up accessibility. CA Assitant Project Manager Edwin Ombega said 418 sub-locations had less than half of their population covered by communications services while another 164 sub-locations have no access to 2G mobile services at all.
"The study established that 3G and broadband services are limited to urban. Only 2,454 sub-locations have 100 per cent population coverage of 3G and broadband while 1,244 sub-locations have no access to this service at all," explained Mr Ombega.
Locals who spoke to The Standard at Oloodo village, which borders neighbouring Tanzania, could not hide their joy at the newly-installed Safaricom booster, saying it had transformed their lives.
"We used to depend on Tanzania's Hallotel, which is a bit expensive. To access Safaricom services such as M-Pesa or calls, we used to travel for over 30km, but now I can call with ease in the comfort of my house," said James Kone, a resident.
Ngau said with the improved network, the otherwise remote areas would now be open for development and business.
"These people can now engage in business such as M-Pesa shops and other activities since they can easily coordinate with their associates," said Ngau.
Some 896 public secondary schools in the country have been connected in the first phase of the Education Broadband Connectivity Project, with another 9,900 scheduled for connection in the next phase.