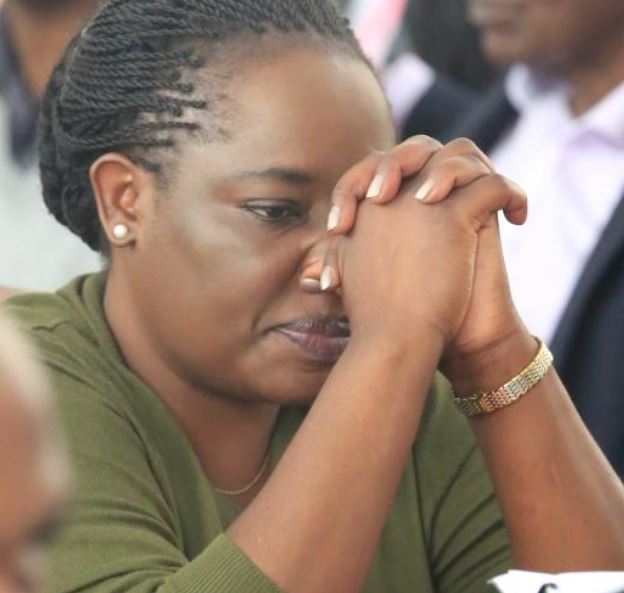 The Assets Recovery Agency has now officially frozen accounts of former Public Service and Youth Affairs Principal Secretary Lilian Mbogo Omollo and her kin after getting a green light from the courts.
In the Kenya Gazette notice published on Friday, the agency froze a total of $105,293.7 (Sh10.5 million) and Sh22.4 million held in 11 bank accounts in the name of Lilian Wanja Muthoni Mbogo, Sahara Consultants, Lidi Holdings Limited and Lidi Estates Limited.
The preservation order will remain in force for the next 90 days as allowed by the court.
"Take notice that if you, the above named respondents or your servants/agents disobey this order, you will be cited for contempt of court and shall be liable to imprisonment for a period of not more than six months," Ms Muthoni Kimani, the director of the Assets Recovery Agency, says in the notice.
Ms Omollo alongside 34 others are facing various charges in connection with the theft of public funds at the National Youth Service (NYS) that have embarrassed the Jubilee government. Other accounts are in the names of Stephanie Marigu Mbogo, Sheela Wangari Mbogo and Shalom Malaika Kamweti at Equity Bank Limited, Community Branch, Nairobi and Diamond Trust Bank Limited, Capital Centre and Village Market branches. The court last month gave a preservation order prohibiting the respondent and her agents or representatives from transacting, withdrawing, transferring.
The orders were in respect to a dollar account which had $67,331.9 (Sh6.7 million). The money is being held in account number 0180272692383 in the name of Lilian Wanja Muthoni Mbogo and trading in the business name of Sahara Consultants at Equity Bank's Community branch in Nairobi.
Conspiracy
The other account has $28,981.97 (Sh2.8 million) held in account number 0180273781178 in the name of Lidi Estates. This is also at Equity Bank's Community branch. The third account has Sh2,297,495 under account number 0180273781104 in the name of Lidi Estates Limited. On its part, Lidi Holdings has Sh257,220 held in account number 0180273780467.
The agency has also frozen $8,979.83 (Sh800,000) held in account no. 0180273780412 in the name of Lidi Holdings Limited and Sh1,685,430.84 held in account number 0180290930598 in the name Lilian Wanja Muthoni Mbogo trading in the business name of Sahara Consultants. All the above accounts are in Equity Bank. The other account frozen has Sh5,653,431.89 held in account number 0806061000 in the name Lilian Wanja Muthoni Mbogo also trading in the business name Sahara Consultants held at Diamond Trust Bank Limited, Capital Centre branch, Nairobi.
Also Sh2,903,996.71 held in account number 5225803001 in the name of Stephanie Marigu Mbogo held at Diamond Trust Bank Limited, Village Market branch, has suffered a similar fate alongside another Sh4,788,763.59 held in account number 7041746001 in the name of Shalom Malaika Kamweti, also in Diamond Trust Bank.
The other affected account has Sh4,859,169.71 and is held in account number 7825846007 in the name of Sheela Wangari Mbogo, according to the notice. This account is also held at Diamond Trust Bank, Capital Centre branch.
Three firms
Ms Omollo and former NYS Director General Richard Ndubai and dozens of public officials have been accused of conspiracy to commit an economic crime by allowing the payment of Sh167,715,700 to three companies, including Firstling Limited, Kunjiwa Enterprises and Ameritrade Limited. In the recently amended charges, Ms Omollo is facing three counts of abuse of office and willful failure to comply with procedures and guidelines relating to management of public funds.
She is alleged to have authorised the payment of Sh115 million to Firstling Supplies, approving the payment of Sh28.7 million to Ameritrade and payment of Sh23.4 million to Kunjiwa enterprises.
The directors of Firstling and Kunjiwa are accused of fraudulent acquisition of public funds. Accountants Isaiah Chapia, Keziah Wanjugu, Timothy Kiplagat and Jackson Juma are accused of false accounting. ?
This comes at a time when detectives investigating how Sh8 billion was lost in the NYS II scandal have found two vouchers that had been lost, which were used to pay millions of shillings to some little known family.
The vouchers are among documents prosecutors want to attach as evidence in the trial of 35 individuals, as they seek to prove that Catherine Wanjiku Mwai, Lucy, Anne, Phyllis and Jeremiah Ngirita received Sh918 million though they had not supplied anything to the NYS.