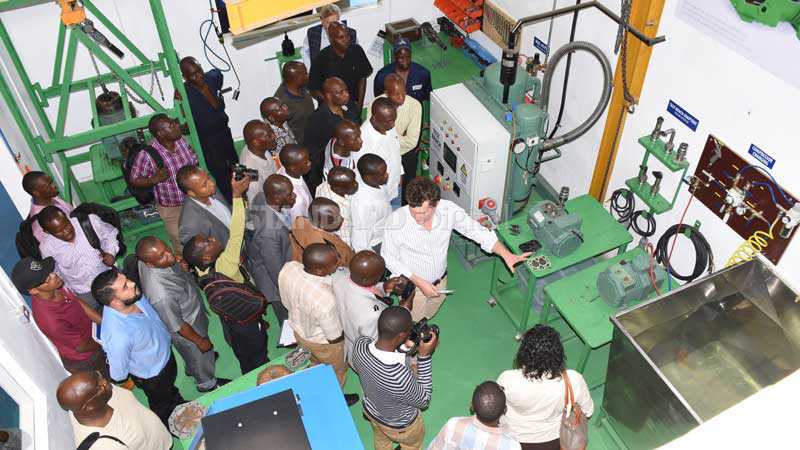 Bitzer, the world largest independent manufacturer of refrigeration and air-conditioning technologies, has scaled up its operations in Africa with the opening of an authorised service centre (ASC) in Nairobi.
The centre, Bitzer's first in the continent, comes just 14 months after the firm unveiled a subsidiary and office in Kenya to tap into the growing demand for reliable commercial and industrial refrigeration and air conditioning in the region.
The company manufactures various types of compressors which drive refrigeration and air-conditioning systems among other products.
The service center, consisting of a fully-equipped workshop and certified trained staff, provides repairs, original spare parts and technical support for Bitzer's refrigeration compressors used by businesses in the region.
It will be operated in partnership with Kenyan firm Repelectric Kenya Ltd.
"Kenya is a strategically important growth region for Bitzer. Increased prosperity and growth in population have led to greater demand for reliable refrigeration and air conditioning," said Managing Director of Bitzer Middle East Stefan Leitl.
He added: "Thanks to the authorised service centre, customers can now rely on a local team that understands user requirements and can provide them with direct access to Bitzer's global service, maintenance and spare part network."
Leitl said the service centre will also support Bitzer's efforts against counterfeiting of its products, mainly from China.
There is growing demand for refrigeration and air-conditioning in Kenya and the region from various economic sectors including horticulture, floriculture, retail supermarket, meat and fish processing, restaurant chains, catering, dairy and shipping among others.
Hospitals, administrative buildings, shopping malls, manufacturing sites, hotels and educational institutions in the region are also pushing up demand for the services.
The firm positions its refrigeration compressors as reliable and energy-efficient thus saving costs to businesses.
Repelectric Kenya General Manager Jack Wootton said the service centre will significantly reduce repair time of compressors and saving downtime costs to businesses.
He added the new facility introduces global standards and quality in repair and maintenance of refrigeration compressors in the region.
"We are well acquainted with the requirements of local users. We have technical support directly from Bitzer to the carry out the best possible repair work. We look forward to expanding our capabilities as the market grows," he said.
He added: "Bitzer's compressors were being repaired before locally but not to the global standards that will be done by the new service centre. Clients can expect enhanced and quality support."
Bitzer, which is headquartered in Sindelfingen, Germany, has 3400 employees globally and generated sales of approximately Sh85 billion (680 million euros) in 2016.
Both the Bitzer service centre and office in Kenya are structurally affiliated with and receive technical ssupport from Bitzer Middle East.