Fantasy lunch affair at sea
By Maarufu Mohamed
Off the Lamu island stands a magnificent hotel said to be the only floating such facility in the coast. Others have made forays into the sea, but through exciting floating dhows.
Eating at Lamu Floating Lodge and Restaurant (also referred to as the Pontoon) is scaring and exciting. It starts from the shore when one boards a boat for the 15-minute ride into the ocean. The waves particularly tend to pound harder than normal once on aboard. Then upon arrival, the coxswain stops the boat at a strategic point and asks customers to use a ladder to access the hotel. Some don't dare look below for fear of missing a step and diving into the ocean's depths.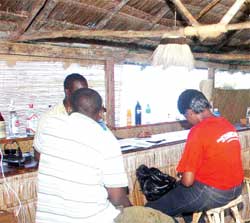 Guests enjoy a meal at the restaurant. The ride into the establishment is both exciting and scaring. [Photos: MAARUFU MOHAMED

The unique lodge, one of the few known floating lodges in the world, makes a guest at home immediately.

MODERN AMBIANCE

The lodge stands out magnificently. Its decor embraces a traditional yet modern ambiance.

The Pontoon restaurant is supported by its foundation of plastic drums filled with air and is anchored on each by long moorings.

Making the floating restaurant is an idea its owner Gerald Hary Johnson generated in 2007. He had the design developed and used local material, including makuti and sisal.

The structure is built on pontoons (an air-filled structure providing buoyancy) in the Indian Ocean. The foundation is made of highly durable plastic drums, 240 of them, that can hold any load.

The hotel can be towed to any location within the Indian Ocean.

"The restaurant cannot move because its weight holds the drums in place," says lodge managing director Peter Gitau.

The lodge's two main buildings host two self-contained houses which can accommodate ten people, a restaurant and bar.

HONEYMOONERS

The restaurant, which comprises of a sundeck and comfortable verandah, uses solar power to run most activities, including music, water boiler and lighting.

The Pontoon is near Shela and Lamu islands and is about six metres deep.

"We have a private cabin, popular with honeymooners, and a seating capacity of 50 people," he said.

Pontoon's guests book to have lunch and dinner. The meals on offer include seafood, Swahili food and other cuisines.

The dining room can also be used for conferences

"We have held over 15 weddings and birthday parties at this place and it has been a wonderful experience," he said.
New HIV aids drug reduce risk by 65%
<object width="640" height="390"><param name="movie" value="http://www.youtube.com/v/b18v3Tk2btw&hl=en_US&feature=player_embedded&version=3"></param><param name="allowFullScreen" value="true"></param><param name="allowScriptAccess" value="always"></param><embed src="http://www.youtube.com/v/b18v3Tk2btw&hl=en_US&feature=player_embedded&version=3" type="application/x-shockwave-flash" allowfullscreen="true" allowScriptAccess="always" width="640" height="390"></embed></object>