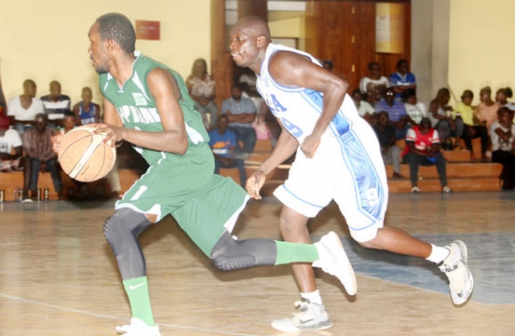 Equity Bank Hawks and Uganda Christian University Canons lock horns in Kampala.
Kenya Ports Authority (KPA) beat Tanzania 92-60 to glide into men's semis at the Fiba Africa Zone V Clubs Basketball Championships in Kampala, Uganda, yesterday.
The two sides had a slow start in the match with KPA picking a 20-15 lead in the opening quarter. The dockers resumed with renewed determination to post a 37-31 lead at the break.
Arou Ramadhan and Arial Okal staged sterling efforts to ensure KPA remained on the lead on second quarter. KPA won the third quarter 68-48 before clinching the victory with a 92-60 win to sail into the semis.
Despite the good run that has seen KPA win three of their four matches at the championships, there are uncertainties if KPA will make it past the semis where they are now poised to tackle defending champions City Oilers of Uganda.
Hosts City Oilers, who are yet to lose a match at the contest, thrashed Kenya's Ulinzi Warriors 72-46 in the final to lift the cup in Dar es Salaam, Tanzania, last year.
According to Marcus Brighton, a basketball analyst, KPA have been impressive but he feels no team has developed the kind of mentality to dethrone City Oilers. "KPA have made a good show but I feel their race ends in the semis," he said.
City Oilers shooting guard, Stephen Omony, is of different view stating that there are no underdogs in such a high level tournament.
Omony told FIBA.com: "We have no option but to respect teams, play hard and ensure that we qualify for the finals."
City Oilers walloped Gondar City of Ethiopia 98-52 in the quarters to set date with KPA in the semis that is expected to be explosive. Equity Bank Hawks, who had rested on Thursday, have also enjoyed a good run.