In Africa, politicians roast and eat their former allies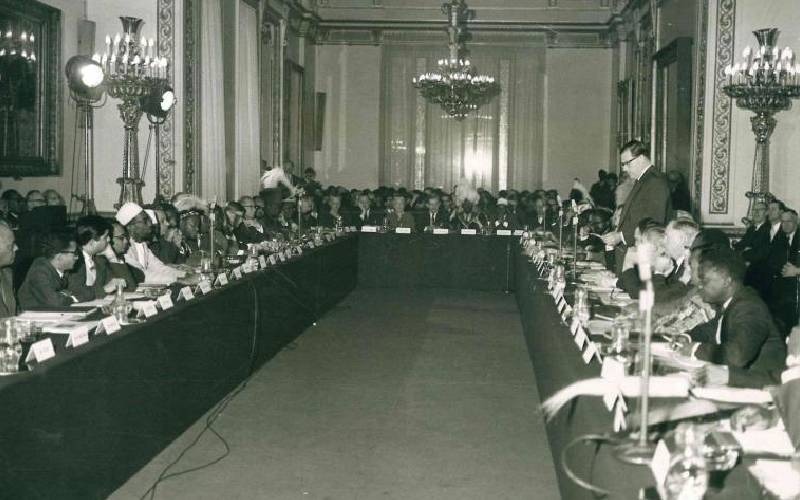 I grew up in a rural home with an overflow of books. It was all courtesy of my grandfather and his progeny. Samuel, for that, was his name, was drafted into the Christian faith as a youth, in 1918.
It was a whole 70 years since Johann Ludwig Krapf and Johannes Rebmann established the Church Missionary Society (CMS) mission at Rabai Mpya, at the future Kenyan coast. Yet it was also a time when most natives doubted the merits of a strange religion. The CMS appointed Walter Edwin Owen the first Archdeacon of Kavirondo in 1918.
On December 8, 1918, Owen baptised the first lot of youth in Butere, among them Samuel. His baptismal card reads, 'Samwiri,' a reminder that Emanyulia was once a subject of the Kingdom of Buganda.
I have related easily to the early Christian missionary narratives told in Chinua Achebe's Things Fall Apart, Arrow of God and No Longer At Ease. They mirror the accounts we heard at our grandfather's feet. Before his baptism, Samuel had been part of the first intake of what is today Maseno National School, in 1906.
Four of his sons, among them my father, later went through the same school, between 1950 and 1968. So proud were they of the heritage that they called Maseno their family school. Butere Girls was the feminine converse. Our grandmother, Rosa, was one of the earlier girls in 1914 – 1918, under Walter Chadwick. Kuka, our grandfather, was proud of these facts to the very end of his days in 1984.
We, the striplings in Emanyulia, took all this for granted, of course. So, too, did we assume the deluge of books that we were privileged to read, re-read and mistreat Kisiwa Chenye Hazina, far from the madding crowd.
The Mayor of Casterbridge, Prester John, Joan of Arc, Moby Dick, The Kon Tiki Expedition, Mashimo ya Mfalme Suleiman, Lorna Doone, Wuthering Heights, and David Copperfield... among many others.
Over the years Moby Dick would force its way to my consciousness. Returning with it have usually been these familial childhood memories. Monday this week was 170 years since the publication of Moby Dick.
In adulthood, I discovered Moby Dick was Herman Melville's contribution to literature of the American Renaissance, in 1851. The fascinating story of a single man's manic obsession with a fish made little impact in the 1800s. It was, in fact, a commercial failure. It was, however, a great literary success that would occupy a child's mind all the way into adulthood.
Manic obsession. Just what is it that could engage the human mind to the point of self-destruction? Moby Dick was a giant whale, a sperm fish, they said. He was probably 20 metres long, and weighed close to 90 tonnes.
A one-legged man called Ahab, the captain of a ship, was obsessed with the thought of killing this ugly marine giant. Everyone else steered clear of him. They ran away. But Ahab ran after him.
He wanted the whale dead, for slashing off his leg during an earlier encounter. Now Ahab walked on an artificial leg, a prosthesis from a whalebone.
Undeterred, Ahab led his crew into the deep sea, thousands of miles away from civilisation. They came to ruin; their ship capsized by the sperm whale. Survivors on lifeboats turned to cannibalism, to remain alive. Once they had eaten the first man, they ate the rest with ritual calmness.
At first, they waited for the man to die. They carved his heart out of the body. They roasted it on a stone in the sun. They ate it. When nobody seemed to be dying, they cast lots on who would be eaten next. They shot him dead. They made food. They calmly sucked marrow from the bones. And they would not be parted from them.
Moby Dick is based on a true story that happened in 1820, a century before Owen came to Africa to civilise the natives. Another one hundred years later, African politics is the new deep-sea, government the ship. Here, men roast and eat their former friends' hearts. They suck their bone marrow.
-The writer is a strategic communications advisor. www.barrackmuluka.co.ke