Let's repair social fabric and reject inclination to violence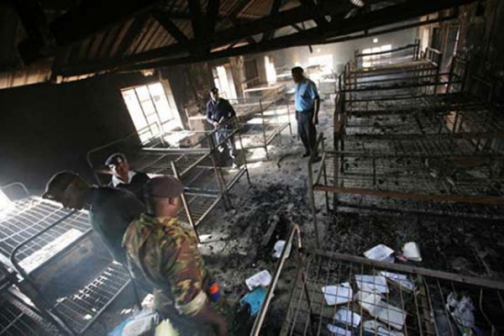 " We have given him an education. But what good has it done it for him?" – Chinua Achebe, No Longer at Ease.
The Kenyan school is no longer at ease. From every corner of the country, the children are speaking. And they are saying it in what they know to be the best way we have taught them to present their case. The young man and woman in Form Four in High School today is on the fringe of the age of majority — age eighteen. Nine years ago, this youth watched in shock and confusion as adults set their country on fire in the post-election violence of 2007/2008. The child has since been going through teenage and now stands at the threshold of adulthood.
But what childhood has she had? What lessons has the child drawn from the adult world around him? Our county lives in the fast lane of active hate and violence. We have heard that the carpenter thinks that every challenge is a nail. The solution is the hammer. And so he will address a mosquito bite with a hammer. Kenya's hammer is violence. Violent language and physical violence is the natural cause of life. We have learnt to face every challenge before us with viciousness. Senators and Governors engage in punch-ups at formal committee meetings. Members of the National Assembly give us a free-for-all on national TV. They pour water on the Speaker and reach into each other's underwear on the floor of the House. MCAs do the same. Legislators blow rude whistles and shout down the President during the State of the Nation Address.
Elsewhere, the clergy exchange blows in the middle of a church service. The holy men of God run after one another with stones, as after rats. They throw chairs at one another and set church buildings on fire. Demonstrating political crowds burn private property, without any provocation whatsoever from the owners of the property. A man will walk up to a former Prime Minister and administer three canes upon him at a public rally and Kenyans laugh this off. And politicians preaching ethnic violence will be paraded across the country as heroes at functions christened "homecomings." Idle crowds turn up to clap and cheer. Politicians exchange angry words and blows at funerals that they had no business attending in the first place.
Even at the family level, spouses push murderous knives through their partners. Husbands kill their wives and children and set family property on fire. Young men who don't know the art of persuasion consider it their right to end the lives of the women they claim to love. Our people say that as mother cow chews cud, the young one watches her mouth. She also begins chewing. The fires in Kenya's schools tell of a wider social crisis than we are ready to accept. Experts have attributed the burning of schools to examination-related pressure and to an extended school term. Others have cited the clampdown on exam cheating and banning of a cocktail of activities in schools. Whatever the true grievances, the big question is why the young people think setting their schools on fire is the solution. For, even after we get down to the factors at the heart of the present grievances, there will still be other grievances in future. Such is the nature of society. Should we expect that fire would be the natural option? The assignment before us is two-fold. We need to establish what has rankled our children and reach an understanding with them on it. But we need to go beyond that and ask, why the fire option?
In a sense, the fires speak to unfinished business. In December 2007 we burnt our compatriots in a church building. They had sought refuge here from bloodthirsty human hounds. We killed them in cold blood. We set other people's property on fire throughout the country. We raped, maimed and killed. Today we pretend that this did not happen. But even where we admit it happened, we close our eyes and say that we have moved on. The bad news is that there can be no moving on in such matters, unless it is first comprehensively addressed. The culture of violence over the past two decades has come back to haunt Kenya.
Those looking for solutions to the present crisis within schools have the wrong end of the stick. We are in the throes of a bigger and wider social malady. If it is about exam stealing and cheating, it is because we steal and cheat everywhere else, all the time. We talk these days about "working smart" and not "working hard." This is euphemism for cheating your way through life. People with brains don't sweat. They cheat. The child knows that when he leaves school he will be expected to steal and cheat. Only well connected cheats and thieves thrive in Kenya. The child's real test is therefore about stealing and cheating in the exam. Why would they want to work hard when they know that doing things that way will not be too helpful after school?
Another factor to consider is the older sibling or other relatives and neighbours at home. There is the fellow who graduated from university a few years ago and remains unemployed. Young people in school are often inspired by the thought that they will be like some person they know out there — a role model. They are encouraged to know that education is the path to what they wish to become. A sense of hopelessness and disillusionment will overwhelm even the most optimistic learner whose educated relatives and neighbours remain jobless. Ultimately, the answer to the fires raging through our schools resides not in the schools, but out here where you and I are. The social, economic and political fabric is badly tattered. We must repair it before we can hope for better in our schools. Focus on the schools can only address the symptoms and provide palliative intervention at the very best.