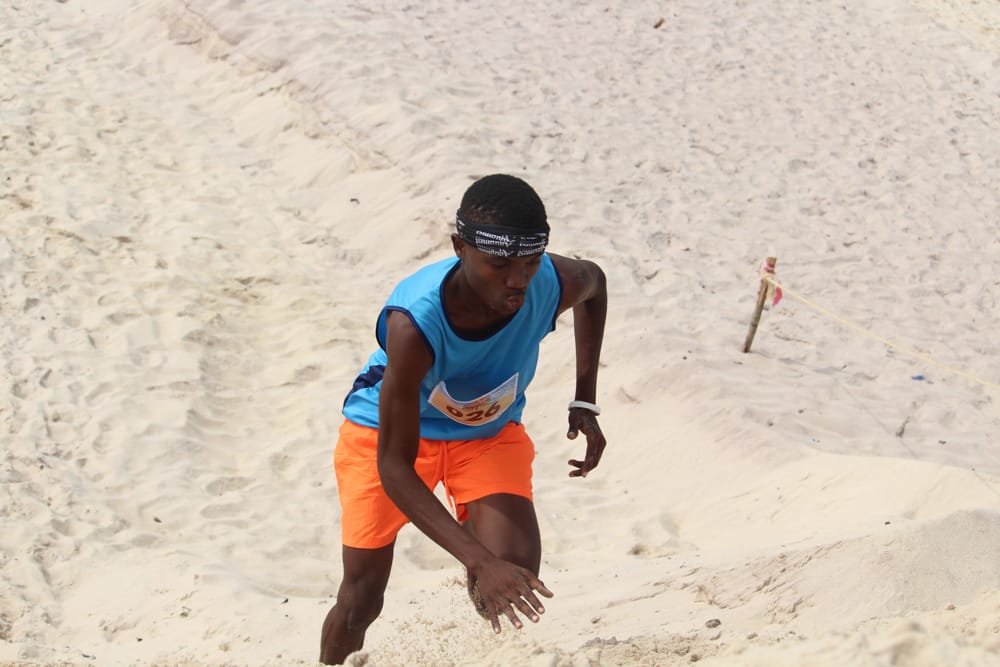 Ali Matano and Sofia Nekesa are the winners of the inaugural edition of Red Bull Quicksand challenge held at Kongo River Beach in Diani, Kwale County on Sunday.
Matano breezed to the tape in 7.00 to win the gruelling 1.6km men's race.
Nekesa clocked 9.05 to emerge champion in the women's category.
"I train every day. I play lots of football to be fit. I'm a midfielder for Football Kenya Federation Division One side Green Marine FC," Matano told Standard Sports.
The 21-year-old also runs a 2km road race twice a week to step up his exercises in his backyard in Diani.
Soft-spoken Matano admitted the competition was tough, praising his fiercest rival Jeremiah Ambani, who was placed second in 7.08, for being a worthy opponent.
"I'm happy with my victory. I hope to defend this title next year.
" The greatest lesson I learnt from the race is that you have to be self-motivated and self-inspired in order to bring out the warrior in you," he said.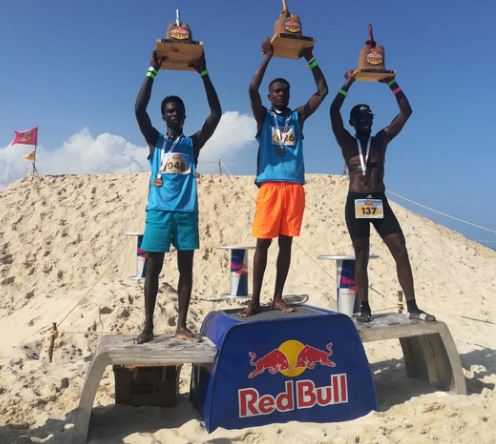 Nekesa, who also hails from Diani, was equally elated with her win saying her top-notch fitness level helped her to endure the tedious challenge.
"I'm a fitness enthusiast, I run 10km every morning along the Diani Beach Road.
"This race was tough at the same time full of fun, I enjoyed it," Nekesa said.
The 32-year-old mother of one admitted she was not sure if she was going to win the contest owing to the calibre of contestants who had registered for the event.
"My confidence grew when I won my heat in the preliminaries.
"This gave me morale which propelled me to win the semis and the finals," she said.
Nekesa, too, praised second-placed Dominic Kremer (10.05) of the Netherlands for stretching her beyond her limit to win.
"Kremer was a worthy opponent, she kept me on toe till the finish line," Nekesa said.
The competition attracted over 300 participants from across the world.
It was held under extreme weather conditions that alternated between incessant rains and scorching overhead sun.
The course involved tackling sandy climbs and trenches giving competitors a full test of endurance and speed.
The event followed a knockout format with runners progressing through heats and semi-finals to reach the grand final.
"The race was first held three years ago, after its thrilling inception in the seaside town of Margate in the UK.
"The championship has come to Kenya to join five other countries in the series this year including Japan, South Africa, Egypt, Kazakhstan and Ukraine," Steven Maikweki, Sports Marketing Manager, Red Bull, said.
"On top of the obvious challenges that come with running on sand - runners expend 1.6 times more energy on sand than running on a road surface," he explained.
"The man-made 'sandcastle' obstacles tower over the competitors, forcing them to climb vertically over the loose terrain, creating a challenge to even the most hardened of athletes" he explained.
"This event will help to market Diani as a tourist destination when held annually," Kwale County Government representative Hamisi Mwandaro said.
Red Bull Quicksand 1.6km challenge selected men's result
1.Ali.Matano 7.00
2.Jeremiah Ambani 7.08
3.James Mwaura 7.50
4.Suleiman Said 8.01
5.Ismail Premji 8.20
Red Bull Quicksand 1.6km challenge selected women's result
1.Sofia Nekesa 9.05
2.Dominic Kremer ( Netherlands) 10.05
3.Eunice Atati 10.26
4.Lucy Wamalwa 10.46
5.Vivian W.Hillier 11.14