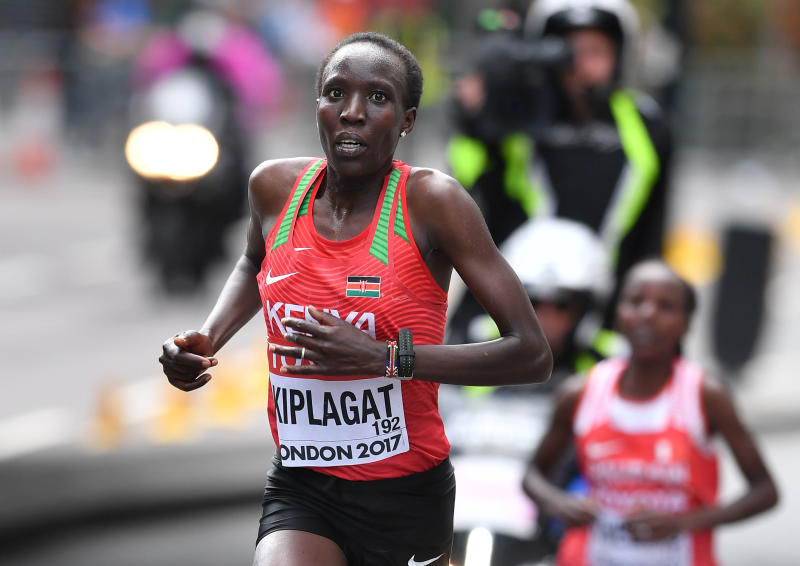 Defending champion Gladys Cherono and two-time world marathon champion Edna Kiplagat will face off with world and Olympic gold medalist Ethiopia's Tirunesh Dibaba in the elite women's field at the Berlin Marathon on September 16.
Cherono, a sub 2hours, 20 minute runner will be out to defend her title which she won last year after clocking 2:20:23, having won in 2015 with a PB of 2:19:25.
Cherono, the 2014 World Half Marathon champion, will therefore return to Berlin streets for the third time. Before heading to the road, she won the 10,000m and 5,000m races at the 2012 Africa Championships.
On the other hand Kiplagat, 38, won world titles in 2011 and 2013 and nearly picked up a third gold medal in London last year, eventually settling for silver after missing gold by just seven seconds. She set her PB of 2:19:50 in 2012 and is a previous winner in London, New York and Boston.
By finishing the Berlin Marathon, Kiplagat, 38, will become a six star finisher having finished all the six world major marathons.
The world majors include: Chicago,Tokyo, New York, Berlin, Boston and London.
The main challenge for the Kenyans in the battle for Berlin title will be 32-year-old Ethiopian, Dibaba, who has three Olympic gold medals and nine world titles on the track and cross country and has a marathon PB of 2:17:56.
The PB, which she set when finishing second at last year's London Marathon, makes her the third fastest woman in history.
Dibaba is keen to beat this time in Berlin and, given the ideal weather conditions expected it might even get close to the world record of 2:15:25, set by Paula Radcliffe in 2003.
Ethiopia's Aselefech Mergia who set her PB of 2:19:31 on the second of her three Dubai Marathon victories will be returning to Berlin for the first time since taking the world bronze medal in the German capital back in 2009. She also won London Marathon in 2010.
Compatriot Yebrqual Melese who joined the sub-2:20 club earlier this year, clocking 2:19:36 to finish third in Dubai will also race in Berlin. The 28-year-old has previously achieved marathon victories in Prague, Houston and Hangzhou.
Another Ethiopian Ruti Aga who finished second in Berlin last year in a PB of 2:20:41 and will be keen to improve on that this year. Japan's Mizuki Matsuda will also line up in Berlin an impressive time of 2:22:44 in Osaka earlier this year.