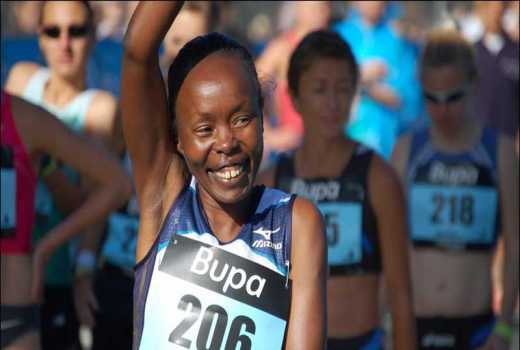 Standing at just 1.56m and weighing a mere 40kg, Tegla Loroupe may be tiny in stature but the Kenyan great will forever be remembered as a giant in distance running.
The diminutive former world marathon record-holder takes a trip down memory lane to reminisce about her hat-trick of world half marathon titles from 1997-1999. The 22nd IAAF World Half Marathon Championships runs in Valencia, Spain, on March 24
Growing up one of 24 siblings, life as a child was far from easy for Loroupe but running provided a welcome outlet. After winning a series of races barefoot, she caught the attention of Kenyan selectors and she was called up to represent her country in the U20 race at the 1989 IAAF World Cross Country Championships in Stavanger, where she placed 28th.
Gradually she rose through the ranks, competing at the Barcelona 1992 Olympic Games in the 10,000m aged just 19 before rising to finish fourth over the 25-lap distance at the 1993 World Championships in Stuttgart.
Yet her greatest glories would come on the road and on her marathon debut in 1994 she created history to become the first African woman to win the New York City Marathon before going on to successfully defend her crown 12 months later.
Under the guidance of coach Volker Wagner and training alongside men, she emerged in 1997 in great form, winning the Rotterdam Marathon in a PB of 2:22:07.
She maintained that form throughout the year and posted a 10km road PB in New York of 31:45. But despite boasting an exemplary record on the roads, she was mysteriously initially overlooked for a slot on the Kenyan team for the IAAF World Half Marathon Championships in Kosice.
Nonetheless, she and training partner Joyce Chepchumba were given a special invite by the IAAF to compete and Loroupe tuned up for her maiden appearance at the World Half Marathon Championships by fulfilling a long-standing commitment to run a half marathon in Luxembourg just one week earlier, which she duly won in 1:10:41.
Showing no physical side effects from her exertions just seven days prior, the Kenyan excelled in hot conditions in Slovakia.
Stopping the clock in a championship record of 1:08:14, Loroupe repelled the strong Romanian challenge led by Cristina Pomacu, who finished 29 seconds adrift in silver, with Chepchumba back in fourth.
It was a momentous win for Loroupe as she became the first Kenyan woman to take the world half-marathon title.
"I was proud to create history," she says. "Victory here opened many doors; I was invited to many top meets which help me financially support many kids, including my family."
In 1998 Loroupe committed to a heavy racing schedule, which included three marathons and six half marathons across the year. Yet the intense competitive workload seemed to bring the best out of the petite Kenyan.
In April, she lowered Ingrid Kristiansen's 13-year-old world marathon record with a 2:20:47 clocking in Rotterdam and she set a second world best for the year when completing 18340m in Borgholzhausen in Germany to break the one-hour mark.
She entered the IAAF World Half Marathon Championships in Uster full of confidence but also under the burden of favouritism.
"We got lost in the forest for three hours," she explains. "We didn't tell the coach at the time because he would have been very angry. We told him after the race, though!"
In hot conditions, Loroupe admits she was a little fatigued from the misfortune of the previous day but she prevailed in a titanic duel with South Africa's Elana Meyer, the 1994 champion.
"Elana took out the lead very hard and I tried to chase her," recalls Loroupe. "I was able to catch her and then we had a great shoulder-to-shoulder battle for many kilometres. I knew the course pretty well from training on it and I took off up the hill with three kilometres to go."
It proved decisive and she opened up a 50-metre advantage on the South African. Although Meyer closed in the final stages, Loroupe held on to win by a three-second margin in 1:08:29, becoming the first athlete to win back-to-back world half marathon titles.
"It was sweet to defend my title, although I faced a lot of pressure and the media expected me to win," she says. "It was also a joy to win the team prize and show women can bring glory and happiness and each member of the team contributed.
In 1999 Loroupe was in the best form of her career. In August she set a national 10,000m record to take bronze at the IAAF World Championships in Seville before clipping four seconds from her world marathon record with a 2:20:43 performance in Berlin.
Pulling up well from her record-breaking efforts in the German capital, just one week later she defied logic to commit to defending her world half marathon title in Palermo, Italy.
"I was tired but after years of running since a young age, it was nothing hard; I loved what I did," she explains. "I never do anything if someone forces me to do something. I do it because of love – it produces a strong healing energy."
Once again competing in hot conditions, she proved too strong for her rivals. Wagner wanted her to attack later in the race, but Loroupe defied her coach's orders and set off with five kilometres to go, eventually defeating Japan's Mizuki Noguchi by 24 seconds in 1:08:48.
"Winning in Palermo confirmed I was among the best and, as an African woman, that meant a lot," says Loroupe, who set up the Tegla Loroupe Peace Foundation in 2003 and has since been whole-heartedly committed to humanitarian work. Loroupe was past her best when finishing 43rd at the 2002 World Half Marathon Championships.