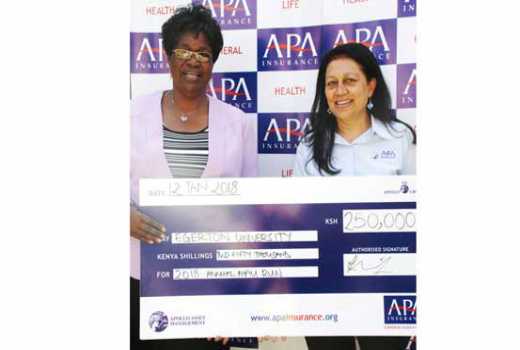 This year's edition of the Mau-Egerton University Cross Country sponsored by APA Apollo is on today.
This is the fifth consecutive year that the company has sponsored the cross country, which was created to raise funds for rehabilitation of the Mau ecosystem and Njoro River.
"We are committed to protecting and conserving the environment. Our objective is to plant and maintain at least 1,000 trees every year," said Nakuru Branch Manager at APA Insurance Meena Shah when she presented the sponsorship cheque to Egerton University Vice Chancellor Prof Rose Mwonya.
elsewhere
Nakuru race for game reserve
Nakuru County has organised a road race to be held in a national game reserve in an effort to promote sports tourism. The road race to held at Mount Longonot in August will cut across Hells Gate National Park according to Nakuru County Executive for Tourism and Trade Peter Ketienye. The game reserves include Lake Nakuru National Park, Lake Naivasha and Mount Longonot. "We want to practice sports tourism by conducting and hosting activities in our game reserves throughout the county," Ketienye told reporters in a ceremonial tee-off of the third round of Barclays Bank of Kenya Golf Championships yesterday. [Ben Ahenda]