Young Dandora dancers to star on Cartoon Network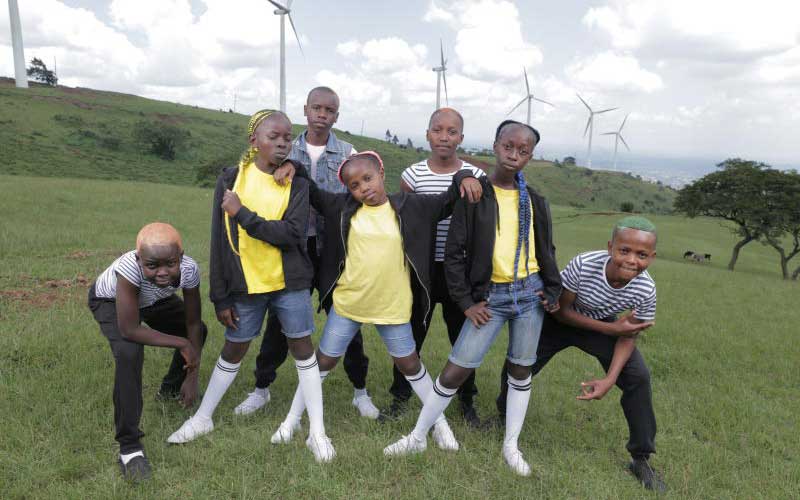 When John Ngaira founded House of Swat dance group in 2012, his intention was to keep children engaged in a productive activity. Children living in slums are easily influenced into drug abuse and crime.
Ngaira hoped to keep children living in Dandora out of it. But little did he know that the young dancers will proceed to be feature on a TV series on Cartoon Network.
'Pop Up Party' TV series will premiere on February 29. The production captured the young stars perform African dance styles in different locations to showcase the unique features of Kenya, including Nyayo Stadium, KICC, Ngong Hills and the Nairobi CBD.
Singer and dancer Bruce 'Bruz' Newton of 'Bazokizo' fame choreographed the dance. The show also worked with other Kenyan talent directors Philippe Bresson and Alfred Nhachi, and music composer Jackson Maina.
Most of the children have been meeting at a social hall in Dandora for about eight years and have grown older in the group. Take for instance, Elijah Meditiek, whose mother observed him dance whenever music was played in their home. She took him to the dance class when he was five years old.
Meditiek, now 13, said he has learned about discipline, respect and the essence of earning an honest living through one's craft.
"I would like people to know that dancers are of good character as much as we are viewed differently, especially in Dandora. Dance has a bad image here yet we are able to earn some money through our art. Sometimes, parents may not be aware of their children's talents because work takes so much of their time," says Meditiek.
Robinson Maina, 14, joined House of Swat seven years ago. His favourite dance genres is hip-hop, dancehall and kwaito.
Lensar Achieng' remembers coming to the hall to learn a dance routine.
"They said it was for a dance TV show. I was happy when I was picked as one of the performers. Many wanted this chance," Achieng' remembers.
Before joining the group and later being picked for the TV show, Achieng' recalls passing by an empty social hall on her way to school every weekday. On her way back she would hear music coming from the hall. One day she walked closer and looked through the window to see young people around her age at a dance practice.
Ngaira, also a choreographer, watched Achieng' and the other curious children and told them that they too could be part of the group if they have a passion for dance.
Achieng' would pass by every day after that. And each time she would watch them go on about dance routines, she felt she too could dance. Her cousin, who was among the dancers, brought her inside the hall. This was three years ago.
"I was nervous when I joined since I did not know any other person other than my cousin. I have since made friends from this place," says Achieng'.
Brian Muchemi is one of the dancers. The 13-year-old describes the opportunity to dance for the TV show as memorable. House of Swat has 40 talents, half of the number being young children. Even though nine people were selected to feature on the TV show, it is a win for all of them.
"We have come a long way. It has not been easy but we kept coming back to the hall to practice and perform in events. We are a dance family. What brings us together is the passion we have for dance. The children love this place and we are proud of what it now becoming," says Ngaira.
Sheryln Wairimu is keen on nurturing her dance career. "I was very excited when I was picked to dance in the show. Dance is a huge part of my life. It is my talent and I would like to start my own group when I am older. Dance also helps children in my community to avoid bad company," Wairimu says.