Artist uses paint to depict the real world, tell stories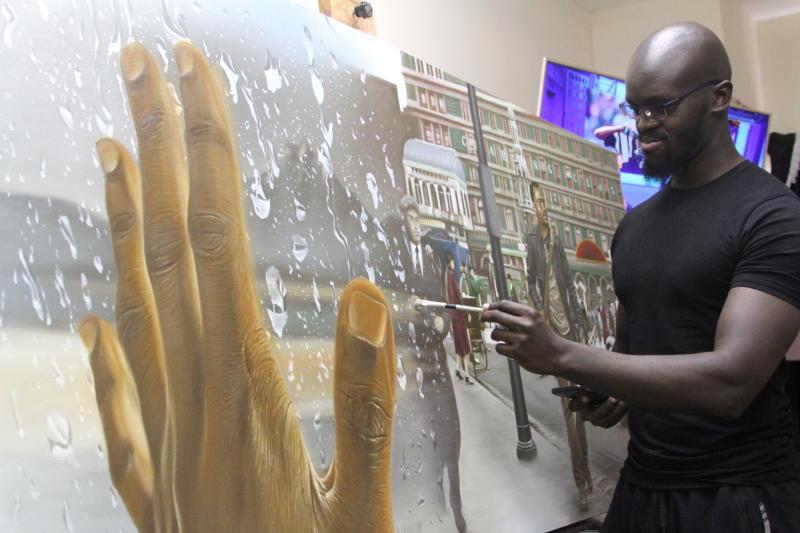 Clavers Odhiambo is not a chatty person. But his paintings are worth more than a thousand words. The similarity of his paintings to photographs is uncanny.
Sort of like the Mona Lisa by Leonardo Da Vinci, but with a modern touch or more like 'The Supper at Emmaus,' which was the most famous painting by Merisi da Caravaggio, the Italian Baroque master.
"I like doing paintings that tell stories," he says.
Caravaggio is Odhiambo's biggest inspiration. Realism is the style of art he employs. "It is a style of art that seeks to express the real world as it is," he says.
He is dressed in black when I meet him. What should be a living room is the studio where the magic happens, cans of paint and other painting paraphernalia arranged on the floor.
Large canvases with his and other artists' work adorn the walls on every side. More canvases and drawings sit in another room. Some are commissions by other people and series of his works. Others, like a pastel drawing of Stephen Hawking, are borne of random bursts of inspiration, created just for his pleasure.
"I just woke up and found out from Twitter that he had died and decided to do a drawing of him to remember him," he says. It took him four hours, despite pastel not being his choice of medium. He likes working with paints. And they are huge: 2 meters by 1.5meters.
"I went with paint because I learned about art in school. That was Kabaa High School," he says.
When I ask him why he chose paint, yet he is good at pastel drawing he says: "When you learn art in school there are books about different art periods like the Rennaisance, Baroque, Rococo – in art when you learn about people like Carravagio, Da Vinci – they were mostly painters. So it influences you. I got into painting just by seeing beautiful pieces in the books and different periods of work."
The soothing soul music always in the background as he brings his vivid imaginations to life, provides a great backdrop for our conversation when we settle down for the interview.
"My creative process starts with a thought, then I do sketches showing how I want to portray it. I look at Caravaggio's work and try to imagine how he would do it but then I make it my own. I finish the thought process in Photoshop, then take it to canvas," he says.
The stereotype of the "starving artist" is not something he can relate to. His paintings go for between Sh40,000 and Sh300,000, depending on size.
At a young age he could draw a picture-perfect copy of the maps in Geography books but he never thought much of it until he joined high school. "I chose to do Computer Studies instead of Art. The first assignment was to render something using a software on the computer. The result was artistic that the computer teacher thought the computer class was the wrong place for me to be," he says.
It was all the way to the top from there. Today he has been commissioned by people from all over the world to do paintings. Thirty percent of his sales are mostly in Europe and the USA.
You can find his work on https://www.behance.net/ClaversOdhiambo and on social media.