Painting, photographic exhibition opens at Alliance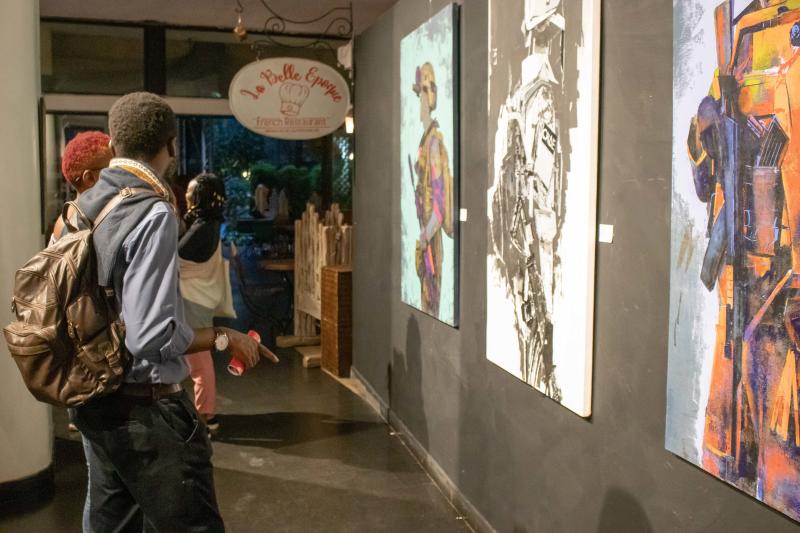 A painting and photographic exhibition, Creative Millenials, is ongoing at the Alliance Francaise in Nairobi. The exhibition, which opened on Thursday and runs until January 26, features works from artists on diverse themes.
Filmmaker and photographer Margaret Sherie depicted mental health through her works "Wrapped in my Head" and "Mrembo." The artist uses monochromatic technique to bring out the subject matter. Her first piece "Wrapped in my Head" depicts a woman who is wearing a mask and atop of it is a bouquet of flowers while her second piece, "Mrembo," a young woman's face is hidden in a bandage.
"People are hiding behind masks and do not speak up when they are faced with a mental illness. When other people look at a person faced with a mental condition, that part is not visible to them. They see someone who is jovial and that is depicted with the flowers in my work," she says.
Ms Sherie adds that the monochrome is designed to spur emotions in the audience.
Martin Musyoka's work revolves around the human body. "Creating nude and semi-nude works is about appreciating the human body which I find very interesting to look at and study," says Musyoka.
Andrew Chege's work revolves around the weather. He depicts snow in an urban setting. "I like the cold weather. I aim to express myself freely and try new things," he explains.