Two musical geniuses in sex abuse storm, again
ARTS & CULTURE
By Agencies | Mar 9th 2019 | 6 min read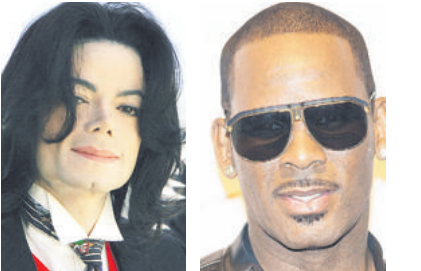 Music stars R Kelly and the late musical genius Michael Jackson are once again battling sexual misconduct charges that saw the former break down during a TV interview and see the latter's estate face embarrassing new revelations that further tainted the pop icon's image.
R Kelly angrily blamed his ex-wife for "destroying" his name and claimed other people stole from his bank accounts during new portions of an interview that aired Thursday, a day after the R&B star was jailed for not paying child support. Kelly, charged with sexually abusing three girls and a woman in Chicago years ago, shouted and cried as he spoke with Gayle King of "CBS This Morning."
He said his ex-wife was lying when she accused him of domestic abuse, and his voice broke as he asked,
"How can I pay child support if my ex-wife is destroying my name and I can't work?" The 52-year-old singer was jailed Wednesday after he said he could not afford to pay $161,000 in back child support. He said he had "zero" relationship with his three children but knows they love him.
The interview, which was recorded earlier this week, marked the first time Kelly has spoken publicly since his arrest last month in the sexual abuse case. In segments that aired Wednesday, he ranted while pleading with viewers to believe that he never had sex with anyone under age of 17 and never held anyone against their will.
The interview also marked the first time he addressed allegations in the Lifetime documentary series "Surviving R Kelly," which aired in January and alleged he held women captive and ran a "sex cult." Experts said Kelly's appearance was risky and could backfire if it gives prosecutors more information to use against him at trial. The charges on R Kelly- which he denies- go back to the start of his career in the 1990s, with many centering around the predatory pursuit of teenage girls. The star was himself the victim of child sexabuse, detailing in his autobiography how he was raped by a female family member when he was eight years old. He said that "she did it repeatedly for years" and warned him to keep it a secret.
As R Kelly battles charges, more details emerged over the often controversial sexual life of pop icon Michael Jackson after two men told the BBC that they were abused hundreds of times by Jackson, from the ages of seven and 10. Wade Robson, 36, told the BBC's Victoria Derbyshire programme the singer had sexually abused him from the age of seven and tried to rape him when he was 14. James Safechuck, 40, told the programme Jackson had sexually abused him "from the age of 10 until around 14".
Jackson's family say there's "not one piece of evidence" to prove the claims.
The two men have also spoken out in the documentary Leaving Neverland.
Asked if the abuse had occurred "hundreds and hundreds of times", both Mr Robson and Mr Safechuck agreed that this had been the case.
Mr Robson told the programme: "Every time I was with him, every time I stayed the night with him, he abused me." Jackson had fondled him, "touching my entire body", and made him watch the singer performing a sex act, he said. And then, when he was 14, Jackson had tried to rape him. "That was one of the last sexual abuse experiences we had," Mr Robson told the programme. Jackson had groomed him to believe they "loved each other - and this is how we show our love", he said.
"And then he would immediately follow that up with, 'But If anybody else ever found out what we are doing, you and I would go to jail for the rest of our lives and our lives would fall apart,' he and I would fall apart," Mr Robson told the programme.
"All of this was terrifying to me.
"The idea of being pulled away from Michael - this man, this other-worldly figure, this god to me who had now become my best friend - no way was I going to do anything that would pull me away from him."
In response, Michael Jackson's brothers Tito, Marlon and Jackie, and nephew Taj Jackson rejected the claims in Leaving Neverland - which is broadcast in the UK next week - that the singer had abused children.
Taj said his uncle's behaviour had seemed odd to some but had been "very innocent", adding: "His naivety was his downfall."
As a result of these new allegations, a statue of the late singer has been removed from the National Football Museum in Manchester, United Kingdom. The statue was commissioned by Fulham's then chairman Mohammed Al Fayed following Jackson's death in June 2009.
Kelly cases
1994: Marries Aaliyah: The star, then aged 27, marries 15-year-old singer Aaliyah at a secret ceremony in Chicago. Influential entertainment publication Vibe magazine later discovered that Aaliyah had lied on the wedding certificate about her age, listing herself as 18. The marriage was annulled in February 1995.
1996: Sued for emotional distress: Tiffany Hawkins sues R Kelly for the "personal injuries and emotional distress" she suffered during a three-year relationship with the star. In court documents, she said she began having sex with Kelly in 1991, when she was 15 and he was 24, and the relationship ended three years later, when she turned 18.
2001: Sued by intern: Tracy Sampson sues R Kelly, accusing him of inducing her "into an indecent sexual relationship" when she was 17 years old. The woman, a former intern at Epic Records, claimed she was "treated as his personal sexobject and cast aside".
April and May 2002: Kelly is sued for a third time by Patrice Jones, a Chicago woman who claims he impregnated her when she was underage, and that she was forced to have an abortion. A woman named Montina Woods also sued Kelly, alleging that he videotaped them having sex without her knowledge.
June 2002: Charged over child pornography: The star is charged with 21 counts of making child pornography, involving intercourse, oral sex, urination, and other sexual acts. Chicago police accused him of videotaping each of these acts and enticing a minor to participate in them. All of the charges related to one girl, born in September 1984.
2002 - 2004: Arrest prompts further charges: Kelly is charged with a further 12 counts of making child pornography in Florida, where he was arrested at his holiday home. These charges came after police seized a camera during the arrest, which allegedly showed the star having sex with an underage girl.
July 2017: Allegations of a "cult": A long and detailed Buzzfeed accuses R Kelly of trapping six women in a sex"cult". The article alleges that Kelly seduced young women when they approached him for help with their music careers, before taking control of their lives - dictating "what they eat, how they dress, when they bathe, when they sleep, and how they engage in sexual encounters that he records".
2017 - 2018: Victims approach the press: Buzzfeed's report prompts further claims. Jerhonda Pace broke on a non-disclosure agreement to speak about having sex with Kelly while she was underage. Another woman, Kitti Jones, claimed the star had starved her, coerced her into sexual encounters with other women and physically abused her. Again, Kelly denied the allegations.