Identity and religious issues to be laid bare at the Little Theatre Club during Easter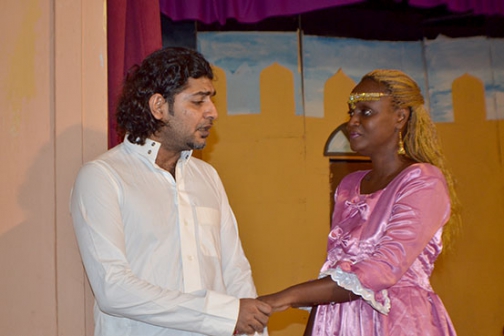 Matters of race and religion added to the slithering heat at the coastal city of Mombasa when actors at the Little Theatre Club stage a play Don Geronimo by Kuldi Sondhi this Sunday.
The play was showed to the media Thursday in an effort to have many Mombasa residents to enjoy the planned one day run.
Kuldip Sondhi who has 17 titles to his name brought with him his daughter Sonita from his Christian Norwegian wife for the show bringing reality to the fiction.
Don Geronimo is a story about Fort Jesus and the struggle between a young Catholic Arab King and a Portuguese Captain.
It's a mix of power as well as identity struggles that eat into the heart of the young man like a tumour.
When Don Geronimo, also known as Yusuf bin Hassan, returns home to Africa's shores as King of Mombasa after studying in Goa and Portugal and serving in the Portuguese Royal Navy.
He meets a fitting challenge in Don Pedro, the Portuguese captain in charge of Fort Jesus and representing Portuguese interest in Mombasa.
Captain Pedro insists on tax increases while Geronimo objects, intent on pleasing his restless subjects.
Being an Arab who converted to Christianity, Geronimo seems to have trouble marshaling the requisite support from Arab-Muslim population.
Matters are made worse with the dilemma of being married to a Portuguese woman, Queen Angeline.
"There is real fear and oppression everywhere these days, my lord. The people are angry about these tax increases, though they know it is not your fault," says Salim Ali, Geronimo's Prime Minister.
As a way to earn the public support the Kings denounces Christianity and goes back to Islam spelling doom on the Portuguese population.
His wife Angela is shocked and asks why he had to fire at the convent with his own hands.
"I had to. No one else knows how to fire the cannons in Fort Jesus. But if one of those Christians had said, 'Forgive me, Don Geronimo, for all the evils my race has done to you' – if one of them had said that to me, I would have spared them all," he responds in deep reflection.
This play is a clear manifestation the collateral damage society undertakes whenever a revolution had to take place. So much individual sacrifices as well.
Geronimo ends up divorcing his loving wife Angela, "My eyes are opening at last. You are a foreigner in our midst, who knows, perhaps a spy even."
And with that she is banished and ends up dying in the high seas.
Directed by Hillary Namanjia, the cast does a splendid job and the star Yussuf Ashik might as well quit his day job of merchandising motor vehicles spare parts and get into full professional acting.
His internalization of words and understanding of the character is immeasurable.
So was Stephanie Maseki (Angela) whose pedigree acting skills was enhanced by her exceptional vocal chords that brought the mood of her tribulations of being married to man with split personality including when she sings that Gospel number Count Your Blessings.
Anne Awuor's lap dance brought home that common man's interactivity that allowed the King to get intelligence firsthand about his rule.
"It was a great experience working with all these people with diverse backgrounds to pull this together," said Namanjia after the show.
Kuldip reckons that the thorny issue of race and religious identity is still alive at the Kenyan Coast to date.
"It is important that we confront this reality and settle on the truth so as to get a piece of mind," said the man who turned 92 yesterday.
Sonita and her childhood friend Avril agree that there are many untold stories on identity that need to be told now.
Both Maseki and Yussuf share that they live in environments where these issues are confronted every single day and was inspiration enough for their sterling performance.
"I am a Catholic and I have seen much intermarriage between Catholics and Muslims and the tensions they could bring along," shares Maseki who is a professional full time actress.
Producer Gilbert Owino says the play will be staged in Nairobi this August.
Kuldip Sondhi was born in Lahore in 1924 and spent his childhood in India and Kenya before traveling to the USA to study at the Massachusetts Institute of Technology.
He lives in Mombasa's North Coast and has been an accomplished hotelier for the past 40 years and spares time to write.
According to Sondhi, writing is his first love – material drawn from his life and environment.